Related: Ring in The Real World: Watch the Premiere With Fellow Fans
For more than three months, theirs was the story of eight strangers picked by MTV to live together in an expensive Dupont Circle house. They quickly found out what happens when a sorta-real reality show is covered in actual real time by hyper-connected Washingtonians.
The Real World: DC premieres on MTV tomorrow, and despite already knowing the "roles" each cast member will play, where they all hung out, and even some of the season's secret story arcs, thanks to coverage on Twitter and blogs, we'll be glued to our television come 10 PM—and so will you.
Why? Because for all the show's flaws and cultural irrelevance, it is about our city—not New York or Los Angeles. And while we already anticipate it being as realistic in its depiction of Washington as Gossip Girl is of New York, part of the fun will be watching just how wrong (and right) MTV's latest batch of crazy twentysomethings gets our city.
Starting Thursday, we'll recap episodes of the show every week. In the meantime, we've already made some preliminary assessments of how awesomely bad the show will be, based on promo pictures and videos released by MTV. After the jump, check out what we think is the most painful thing about The Real World: DC so far, as well as some facts about the show and its production.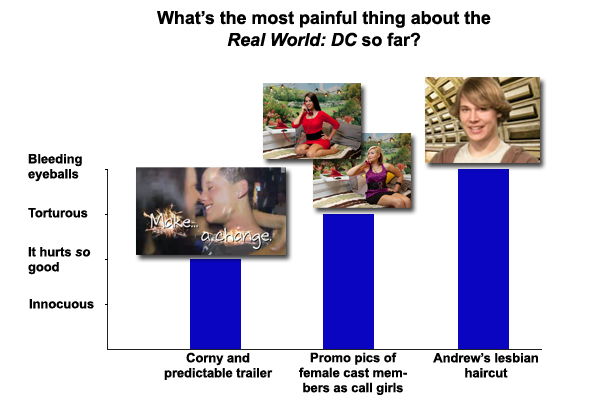 The Real World: DC FAQs
Who's in the cast?
Josh Colon from Philadelphia; Ashley Lindley from Fort Bragg, California; Michael Manning from Thornton, Colorado; Ty Ruff from Baltimore; Emily Schromm from Columbia, Missouri; Callie Walker from Huntsville, Texas; Erika Lauren Wasilewski from Chicago;and Andrew Woods from Denver. All are in their early twenties.
What's going to happen to the Dupont house now that filming is over?
According to developer Douglas Jemal, who owns the building, immediate plans for the 10,800-square-foot house involve finding a new tenant. Jemal has no plans to sell the property or lease it for residential use—so neighbors need not fear that a pack of George Washington University kids will be moving in. The house, which underwent extensive renovations for MTV, will most likely revert to its previous use as office space.
How'd the cast fund their outings?
They were paid a weekly stipend for living expenses. According to Chris Wiggins, the man behind the Twitter handle @realworlddcnewz who tracked the cast's every move, missing curfew or speaking with the media was considered an infraction by the production team and resulted in a monetary deduction. Oh, and a lot of free drinks at bars helped them get by, too.
Was there a curfew?
All cast members were required to be back at the house by 2 am.
Where did they go went they went out?
Reports of cast-spotting spanned the Beltway. The farthest they appeared to venture was to Dave & Buster's in White Flint Mall. They spent time at Arlington's Clarendon Grill, partied in Southeast and Southwest DC, went to a DC United game at RFK Stadium, and mostly worked the Adams Morgan/U Street/Dupont area at night. A more comprehensive list is at washingtonian.com/realworlddc.
Where did the cast work?
Manning and Schromm interned at advocacy organizations—Manning at the Human Rights Campaign and Schromm at Africa Action. Walker was a photographer for the Washington Blade; Ruff interned for the Washington Capitals; Wasilewski did marketing for the gay bar Halo; and Colon and Lindley were bartenders—one at Rhino Bar, the other at McFadden's.
How could the public tell where the cast was filming?
Figuring out the cast's whereabouts was easier than most people think: Production staff mobilized around town in gold vans, says Wiggins.
How did the production handle the media and blogger scrutiny?
Not well—at least initially. Early on, the crew ran into two snafus. The first involved a cameraman intentionally disrupting Channel 9 reporter Lindsey Mastis's interviews with fans outside the house by blocking her camera. He apologized, but days later a similar event took place at a soccer match at RFK Stadium. This time, bystanders snapping pictures of the cast were approached by production staffers who asked them to delete the photos.
Cast members, though unable to access Facebook or Twitter while at the house, were aware of the scrutiny they were under. In fact, says Wiggins, they often used the spotlight to their advantage, sending him tips about fundraisers and events they were involved with in order to draw bigger crowds.
Was there any drama on the season that we don't already know about?
Following a flurry of negative online stories about her past, cast member Erika Lauren Wasilewski is said to have left the show a few weeks early. "It became obvious that her story line would be that of the crazy, unstable person," Wiggins says. No replacement was brought in.
Subscribe to Washingtonian
Follow Washingtonian on Twitter
More>> Capital Comment Blog | News & Politics | Party Photos