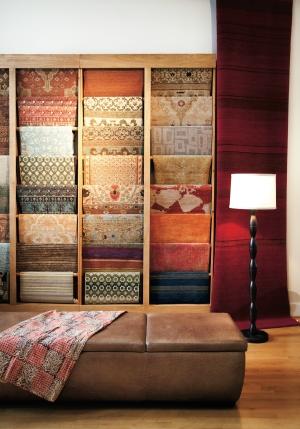 >>Restaurants
>>Bars and Clubs
>>Art Galleries
>>More Neighborhood Guides
Clothing and Stuff
At Caramel, a hip boutique, eco-minded shoppers can find stylish clothes from "green" clothing lines Peel, Even Keel, and Panda Snack, among others. The store also sells men's and women's jeans, bags, shoes, and belts by local designers. The artwork on the walls, which is for sale, is by artists from the neighborhood.
Women looking for the latest trends should check out Lettie Gooch Boutique. The place has a bit of everything—tailored dresses, oversize tunics, colorful handbags, bold jewelry. The sale section has items up to 50 percent off; for even deeper discounts, go to the Web site and sign up for the e-mail list to get information on special sales.
Named after owner Jackie Flanagan's fashion muse—her grandmother—Nana stocks stylish clothes and accessories for women. With a mix of new and vintage pieces, the shop caters to twenty- and thirtysomethings looking for casual work and weekend-appropriate items—cute patterned frocks, crocheted tights, high-waisted skirts. Sign up for Nana's newsletter—e-mail signmeup@nanadc.com—or visit its Web site for the scoop on upcoming sales.
Housed in a sleek space, Redeem features high-end men's and women's clothing for fashion-forward urbanites. With brands such as Religion, Corpus, and Covet, don't be surprised to see big price tags. The real score is the sale rack, which usually has some in-season gems for 25 percent off or more.
Head upstairs to the second-level shop Rue 14 to find dozens of designer labels. Rue's hipster-meets-prepster selection includes felt fedoras, gauzy shifts, tailored coats, and well-made jeans. The shop carries pieces for both sexes, but there are more choices for women.
ShoeFly proves that cute shoes don't have to break the bank. Many styles—from funky pairs of Miz Mooz to trendy heels by Naughty Monkey—are less than $100. The store also carries bags and jewelry.
It's easy to miss the tiny second-floor shop Treasury, but vintage lovers should make a stop. Owners Cathy Chung and Katerina Herodotou stock a well-edited selection of retro clothing, jewelry, shoes, and accessories. What you won't find is polyester and kitsch—only well-made pieces in good condition. In case something doesn't fit quite right, a seamstress is on-site Tuesday through Thursday.
For the Home
GoodWood stocks high-quality antique and vintage wood furniture. But there's more: rugs, jewelry, decor, even interesting period pieces such as an antique typewriter and a midcentury dentist's chair. The store, open Wednesday through Sunday, has a big following, so pieces go fast. But because the selection turns over weekly, there's always something new.
Fans of midcentury furniture will find lots to like at Millennium Decorative Arts. Open Thursday through Sunday, the two-room shop overflows with finds such as chrome-leg coffee tables, patent-leather wing chairs, and lots of teak furniture. Many of the pieces are small, so they're good for apartments or condos. Because the store sells many of its items on consignment, the selection turns over frequently.
The vintage-furniture store Miss Pixie's is picky about its stock—everything is hand-selected at auctions—but that's what makes it as much fun to window-shop as to buy. The store is a treasure trove of carved Victorian sofas, funky retro sideboards, distressed armoires and dining tables, and more. Some pieces show wear, but most are sturdy and well maintained. For a real throwback, check out the shelves of books and magazines from the 1950s through the '80s.
Mitchell Gold & Bob Williams, a high-end furniture store, keeps customers coming back with good-quality transitional pieces and top-notch service. It offers in-home design assistance for customers who need input. Can't find exactly what you need? Custom fabrics are available for almost anything; options range from denim to mohair.
The Asia-inspired boutique Muléh strikes a balance between modern and livable. The furniture—from armchairs to coffee tables—combines clean lines with warm colors and soft fabrics. Look for interesting floor lamps and wall lights, and don't miss the small selection of artful women's clothing in the back.
With its small-scale furniture and displays of quirky decorations, Rckndy—pronounced "rock candy"—is a good stop for hip apartment dwellers. Expect bold prints and colors; neat storage solutions; convertible, multi-use furniture; and fun vintage art. Brands include Blu Dot, Copeland, and Gus Modern.
For furniture or other decor that makes a statement, check out Reincarnations Furnishings. The labyrinthine shop is packed with eclectic pieces—from beds and dressers to vases and lamps—that are heavy on color and sparkle. Markdowns are common, and the place occasionally has sidewalk sales.
Timothy Paul has two storefronts on 14th Street. At Carpets & Textiles, look for handmade classic- and modern-print carpets imported from around the world, plus vintage tribal weavings from Uzbekistan, country-chic pillows, and lighting and furniture from Powell & Bonnell. One block north is the Bedding & Home store, where you'll find elegant yet cozy bedding sets, embroidered pillows, and bedroom furniture that looks magazine-ready.
Vastu, a purveyor of modern furnishings, is one of the few area shops that carry Knoll's furniture and classic home furnishings designed by the likes of Mies van der Rohe and Eero Saarinen. Other brands include Steven Anthony, David Edward, EcoSmart Fire, and EscribaStudio. The store also sells pieces made by independent artisans.
Gifts and Other Finds

Plant lovers with or without yards can find something at Garden District. It sells locally sourced indoor and outdoor plants, pots, seeds, and more. For novices, all-in-one starter kits are available, and knowledgeable staffers are on hand to answer questions. The place offers guarantees on its plants: one year for trees and shrubs, six months for perennials and houseplants, two weeks for annuals. If something goes wrong, you can make an exchange or get store credit.

Home Rule stocks fun, functional home goods you maybe didn't know you needed—a hen-shaped egg timer, an ice tray that makes alien-shaped cubes. Look for supplies for kitchens, bathrooms, bars, and offices, plus some one-of-a-kind bridal- and baby-shower gifts. Popular brands include Umbra, Le Creuset, and Simplehuman.

Pulp isn't your grandmother's gift shop—you're more likely to find Saint Obama candles than cutesy candy dishes. The store is brimming with quirky gifts, but you can also find pretty writing journals, cards, wrapping paper, and knickknacks. During holidays—which can mean anything from Christmas to Mardi Gras—look for seasonal decorations.

This article first appeared in the March 2010 issue of The Washingtonian. For more articles from that issue, click here.