When Isaiah Spriggs walks the halls of Rockville's Richard Montgomery High School, he's surrounded by classmates who have things he doesn't. Laptops, cars, cable television. His teammates on the varsity football team have parents watching them from the stands.
If it was meant to be that way for me, it would be that way, he's told himself. You can't hate on somebody that got the dream life.
Before he moved to the area from Baltimore about two years ago, Isaiah had never heard of Montgomery County. The only people he saw driving Porsches were drug dealers. He was sleeping in a jail cell that had a small window with a view of a brick wall—the breakfast sausage was hard and flat, like his mattress.
Now Isaiah has his own apartment with a kitchen, a balcony, and a couch. He doesn't have much in his refrigerator—ham, cheese, Country Crock, a carton of eggs—but there's tuna and Oodles of Noodles in the cabinet. That's fine with him. He could live on Oodles of Noodles. The dishes are dirty and the trash needs to go out, but otherwise the place looks good. He'll get written up if it doesn't.
"Don't store leftovers in the pan," adults say when they stop by. "Get your clothes off the floor."
At 17, Isaiah is part of an independent-living program called FutureBound, which is designed to help prepare teens in the foster-care or juvenile-justice system for life on their own.
Both of his parents are dead. He still remembers the man who came up to him at his mother's funeral and said, "Just because they're gone doesn't mean they're never with you." He was eight then, old enough to understand what had killed his mother and that she'd gotten it from shooting drugs.
Isaiah likes having his own place. Nobody tells him to get off the phone or that it's too late to take a shower. But nobody stands over him helping him study, either, or cooks him dinner. That's the point of independent living: He's supposed to become an adult.
The campus of the National Center for Children and Families, the nearly century-old nonprofit that runs FutureBound, sits on 13 acres in a neighborhood of $700,000 homes near downtown Bethesda. When a petty crime takes place in the neighborhood, residents often look to the 12-to-17-year-olds who live in NCCF's group home, some of whom come straight from juvenile detention and find themselves walking the halls of Walt Whitman High School.
Most of the teens in FutureBound, including Isaiah, came to the program from a group home like NCCF's, where kids share rooms and follow study hours and chore lists. They're not used to the freedom they get in independent living—or the responsibility. At NCCF's group home, staffers tell residents: "You're not here simply because you did something wrong." They talk to kids about the families that have let them down.
At FutureBound, teens such as Isaiah have to stop making excuses for themselves. NCCF pays Isaiah's rent and gives him money for groceries as well as a clothing allowance. In return, he has to work and go to school, turning in pay stubs and report cards. Until recently he had a job at Giant; now he has to find a new one. He's required to attend Life Skills classes, where adults talk about everything from dining etiquette to how to fill out a college application.
If he messes up, he could end up on his own: He's a ward of the state, a name in a file at the Maryland Department of Juvenile Services. There's nobody else who can care for him.
About 250 young people have participated in FutureBound since it was created 15 years ago. Like Isaiah, many teens in the program had childhoods marked by abuse and neglect. One young man has walked by his homeless mother at a bus stop—she'd given him up as a baby—and heard her yell out for him, begging for money. Another cared for his siblings while his mother got high. Some have lived in many foster homes.
"Part of our program is about helping them heal," says FutureBound coordinator Roberta Rinker, "answering that question for them: How do you become self-sufficient when how you've been loved wasn't good enough?"
Isaiah started dreaming about his mother when he was in fourth grade. He was living with his aunt, Angela Jones, one of his mother's sisters, in a bedroom that had life-size drawings of Bugs Bunny on the wall.
"I heard my mother call me," he says. "My mother called my name clear as day: 'Isaiah, come here!' "
His mother had started using drugs years before he was born and hadn't stopped when she was pregnant. As a newborn, he'd spent two months at Mt. Washington Pediatric Hospital in Baltimore because he was going through withdrawal. His aunts sang to him and touched him through an incubator.
He was a chubby baby—"like a little butterball," Jones says—who took his first steps to get a snack. His parents were unable to care for him, so he lived with his grandmother until she died when he was one, then Jones took over custody. His mother rented a house nearby and visited. She had seven children who had three different fathers; Isaiah was the baby.
He gave his aunt a hard time once he started school. He acted up in class; at home he put holes in the walls. She was working full-time as a caterer and raising a daughter on her own. She had to buy Isaiah a new bedroom set because he'd destroyed his. He was eventually diagnosed with attention deficit hyperactivity disorder.
"When he got older, they wanted to put him on Ritalin," she says. "I was running back and forth to therapy. I stopped giving him the medicine—he was like a zombie." For a while, he had one-on-one help in his classes. His favorite subject was math.
Isaiah spent only a few months staying with his mother the summer she tried to get clean. For most of his life she'd been in and out of jail. One Christmas she sent her sister money to buy him an Elmo that did flips.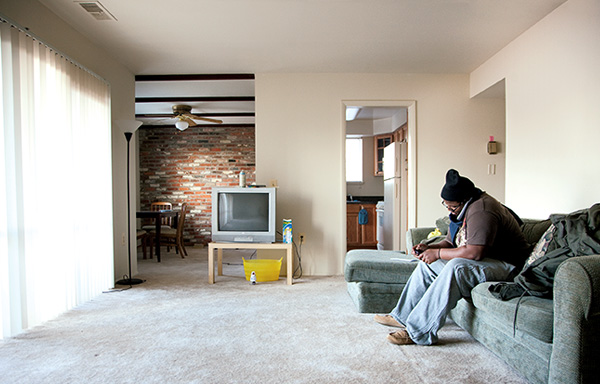 Isaiah now has an apartment with a roommate. The first night in his new place, he found it was too quiet to sleep. Photograph by Matthew Worden.
He adored his mom. When she was doing okay, they'd go to the movies together or watch the dolphins at the National Aquarium in Baltimore. He'd ask Aunt Angie if his mother could spend the night in his room, and he'd offer to sleep on Angie's floor. Once when he took his mother's cigarette lighter and burned a pile of napkins, she put his hand over the flame to teach him not to play with fire. She'd often tell him, "There's no point to lying."
Isaiah was visiting his mother the first time he saw someone overdose. He was watching Power Rangers in the living room, and a male friend of hers was sitting on the couch. Isaiah looked over and saw the man struggling. His mother kept screaming at her friend and touching him, but he was gone.
He was seven when his mother started getting so sick from AIDS that she had to stop taking him places.
"Isaiah, I can't do it no more," she told him.
Aunt Angie would take him to the nursing home after school, and he'd lie in bed with his mom.
"When you get better," he asked, "you gonna take me to Chuck E. Cheese?"
Isaiah is planning to get a tattoo of his mother's name, Gwendolyn, on his arm. Rinker doesn't like it when the teens get tattoos. "One of our kids got a gang tattoo of a gang he's not even in, just to defy me," she says.
Rinker thinks about what will happen when they're trying to get jobs. Maryland teens age out of the foster-care system at 21; about a quarter nationwide spend at least one night homeless. Because Isaiah got in trouble with the law, his case belongs to the Department of Juvenile Services, not the foster-care system, so he could lose state services sooner.
Rinker calls them "our kids" because she often feels like a parent. She was at the movies on a Friday night when Isaiah called to ask for a curfew extension. When she hands out $150 gift cards for the youths to use at the mall, she reminds them that they won't get much if they buy the most expensive brands. But they're teenagers: Isaiah would rather have a pair of New Balance shoes and a couple of polos than a bunch of cheap shirts. "I'm obsessed with horses," he says.
The FutureBound staff has two offices in Village Square West, the same Rockville apartment complex where the teens live. The kids walk into Rinker's office all the time, often without knocking. One afternoon a teen threatened to beat up his roommate, a girl refused to go to tutoring and stormed out cursing, and a young man with a four-year-old daughter failed a drug test.
When the guys have a question they can't ask a woman, they ask "Mr. Deon," the assistant coordinator. Deon Smith, who grew up with a single mother in DC, often drives one of the staff's white vans, taking teens to therapy appointments and court dates. Kids go to Rinker when Smith says no.
"She gives them the time to cry or beg—I don't entertain it," he says. "People aren't going to show you any sympathy when you get older because of what you went through as a youth."
When kids turned in their savings money late, Smith sent them to talk to the manager of the apartment complex. "Ask her, 'What's an acceptable excuse for not having the rent on time?' " he told them. "There is none."
The Baltimore Isaiah knew as a child wasn't all bad. He heard a lot of sirens and avoided certain street corners, but he felt safe walking to the store to buy gum so he could blow bubbles in class. Not much happened on Aunt Angie's block, because older neighbors called the police. At night she kept him in the house.
One day Isaiah's father told him to wait outside Aunt Angie's after school so he could pick him up and they could spend the afternoon together. Isaiah got dressed and sat out on the steps. His father, who ran a home-improvement business, didn't come around often—Isaiah's aunts didn't like the way he'd treated Isaiah's mother when they were together.
He waited five hours, ignoring the kids who asked him to play, but his father never showed.
Isaiah had always been a challenge for Aunt Angie, and he became angrier after his mom died. He eventually ran away. He knew people who sold drugs, and he needed money, so it wasn't hard for him to start.
My mother and father were into drugs, he thought. Might as well.
He learned the rules of street life: Never put your hands on a white woman. Never hit a young girl. Never shoot a kid. Never steal from your own family.
If he did all that, he was told, he'd stay alive.
When Sheryl Brissett-Chapman joined NCCF in 1991, one of the first things she realized was that kids in the group home were staying too long. Some had been there more than five years—a year was enough. It's hard to find foster parents who want to take in teenagers, and some kids can't be reunited with their own families. The teens' behavior was regressing.
Chapman started FutureBound in 1995 and rented a group of apartments in Lanham, but she soon discovered that the complex was overrun with drug dealers. One boy in the program was found growing a marijuana plant in his bedroom.
She moved FutureBound to Aspen Hill, but after several years the area became a hot spot for crime. Some teens in the program started getting mixed up with troublemakers in the community. "The police said, 'You are really in the wrong neighborhood,' " Chapman says. "So we moved to a more expensive community."
The apartment complex in Rockville, where rent for a two-bedroom apartment like Isaiah's is about $1,500, is filled with families. Roberta Rinker worries when her phone rings and it's the rental office. Counselors do apartment checks every three to four hours—including overnight—but she and her staff are responsible for 18 teenagers. She's received calls about loud music and clutter on balconies. A woman who lived below a FutureBound apartment complained so much about the music that Rinker moved the youth who was living there.
Roberta Rinker and Deon Smith run FutureBound for kids like Isaiah. Says Rinker: "Part of our program is about helping them heal." Photograph by Matthew Worden.
When a young woman had older men coming over—every visitor has to be approved—Rinker and her colleagues stood in the parking lot waiting for them. "Turn around," they said to the men.
During the few months Isaiah was living on the streets, he got into a fight with a kid he'd known since elementary school because the boy had sold drugs to a pregnant woman. The same woman had approached Isaiah earlier. "No," he'd told her. "Go home."
He had a system when he was dealing. A friend left cocaine for him in a mailbox every morning. Isaiah stashed $10 dope bags at the bottom of a hill, hung out on the block all day, and brought the drugs up when he had buyers. He hung around people who had guns, so he didn't need one.
He wasn't worried about cops: He didn't keep drugs on him—he was too smart for that. Why would they suspect a young kid? School was too far away, so he didn't go, and nobody bothered him about it.
He never got into anybody's car. If someone asked for more than ten bags, Isaiah wouldn't sell to that person—big buys meant trouble.
He brought in $375 on a bad day, close to $600 on a good one. He walked away with 60 percent and put the rest in a mailbox. He paid his cell-phone bill and bought new clothes but gave most of the money to a cousin and asked her to hide it.
Nobody would take him in while he was dealing, so at night he'd get a room alone at a motel or find a vacant rowhouse near Johns Hopkins. He'd kick in the door and lock it from the inside. He stayed only in places that were being remodeled and had running water. He liked the feel and smell of new carpeting, so falling asleep was easy. He cried when he dreamed his mother was there.
Every night he walked to the corner store to buy boxers, a towel, and soap. He had to shower: There were days in the summer when he'd be inside bagging dope and start to feel high just from touching it, as if it were seeping through his pores.
Rinker once had a job knocking on doors in Southeast DC trying to track down the birth parents of abandoned babies. She's worked with lots of drug dealers. She understands why Isaiah laughs when you ask if he was using drugs in Baltimore. Of course he wasn't: He would never smoke up his profit.
"Most people living that lifestyle want a different lifestyle," she says. "During the election, I worked the polls. Every drug dealer in my neighborhood came and voted. They put on dress clothes. They had their stickers on that said 'I voted.' "
It doesn't surprise her when Isaiah says he'd go back to dealing if he felt he had no other choice: He doesn't like asking people for help. "That's the hard part—he knows he can survive that way again," says Rinker. "We're trying to give him the skills he needs so he never has to be that desperate again."
A young man who was discharged from the program but still calls Rinker on Mother's Day recently stopped by to see her.
"What are you doing for money?" Rinker asked.
"Hustling," he said.
More than half of the teens in FutureBound leave successfully, with a good job and money to live on; the rest usually get discharged for doing something wrong or leave and end up struggling again. One young woman became a lawyer; another works at NIH. A young man whose mother was abusive got his degree from the University of Maryland—most kids in FutureBound can find scholarships to pay for college—and went to work for the National Center for Children and Families.
Krystal McKinney, NCCF's manager of adolescent services, received a letter from someone who'd done well at FutureBound but had gotten in a fight in the community and ended up in jail.
"Thank you for all that you did for me," he wrote.
"There's a connection that's made," McKinney says. "There's this feeling of 'Regardless of what I do when I leave, you all did teach me something.' "
The only thing Isaiah would eat when he was locked up in the summer of 2007 was chicken nuggets and fries. New guys came in trying to look tough, with their chests out, which made him mad.
Still, he didn't mind it there. It wasn't a real jail. "Baby bookings," as he called it, felt like daycare. He played video games and basketball with cellmates. He missed seeing girls, but he got to take classes, which he hadn't done in months. The guards knew his brothers and sisters, so they brought him fast food. He stopped having to look over his shoulder.
Isaiah spent about six months at the Baltimore City Juvenile Justice Center after cops arrested him for possession, and at times he didn't want to leave. His aunt Angie lived close by but wouldn't visit.
"I was really angry with him," she says. "I told him, 'You hard-headed. You don't listen. I've done all I can for you.' I had to let him hit bottom."
One day his sister showed up.
"What you here for?" he asked. Her voice was trembling. "What's wrong?"
"You know I care for you," she said.
"Uh-huh." Bad news was coming. She never talked that way.
"Aila died," she said.
When Isaiah was 12, he'd watched a friend get hit by a Mack truck while they were playing in the street. His best friend was shot to death walking home from school while Isaiah stood next to him. Now it was Aila—one of his sisters, dead of a seizure.
"What?" he said. "I didn't hear you."
In December 2007, Isaiah was transferred to the John C. Tracey Boys' Group Home in Rockville. His father had died of AIDS earlier that year. He arrived in his jail uniform—khakis and a gray sweater—and shackles that left marks on his wrists.
An officer dropped off Isaiah's clothes a few weeks later—tennis shoes, underwear, T-shirts. She put a plastic trash bag on the step, rang the doorbell, and left.
The eight-bedroom group home is five minutes from Rockville Town Center. Every day when Isaiah got home, he had to open his bookbag so a counselor could look inside. He had to take off his shoes and sanitize his hands. There were study hours each afternoon, and the lights went off around 9:30. The boys helped the staff with cooking; Isaiah often boiled spaghetti.
There were rules: If Isaiah left the property for more than an hour, he'd be considered AWOL. If he wanted to go to a movie, he needed a community pass.
Patricia Temoney-Salmon, Isaiah's caseworker, had just started there when he moved in. She didn't like his thunderous voice and the way he slammed doors. The other boys called him Lardo. He always wanted to fight.
"I don't yell at you," she told him, "you don't yell at me."
Look at all those rich people, Isaiah thought when he got to Montgomery County. He saw a Lamborghini in the parking lot at Rockville Town Center. Wow.
He started school at Richard Montgomery halfway through his freshman year, in a program for emotionally disturbed students. The Montgomery County school is ranked among Newsweek's top 100 high schools in the country.
Isaiah showed up for his first day in the middle of winter wearing the flip-flops he'd gotten in juvenile detention. Once during his first few months, he picked up a metal trash can and threw it down the hall. He told teachers to get out of his face.
He walked to school in a sweatshirt.
"Do you have a winter coat?" his English teacher asked.
"I don't wear winter coats," he said.
The teacher was used to having students with behavior problems and police records, but most of them had someone who was there for them. She remembered helping her own children get through high school.
All this kid needs is a mother, she thought.
The class studied Of Mice and Men, which Isaiah enjoyed, but he didn't like reading aloud. He didn't write down due dates, so he turned in assignments late. His teacher realized he couldn't multitask.
"Your whole situation—it isn't normal," she told Isaiah. "I get that. You get that. But it doesn't mean it's not possible for you to thrive."
If he cursed at her in class, she'd come in the next day as if nothing had happened. She had a philosophy about teaching: People don't care what you know until they know that you care. When she tried to talk to Isaiah, he told her he didn't trust anyone.
"I understand," she said. "But I'm here."
Some kids at Richard Montgomery called Isaiah and his roommates the Tracey Boys. They walked to school together and protected one another. When something bad happened at school, Isaiah felt as if people were looking his way. A bunch of kids came to the group home one afternoon wanting to fight, and Isaiah brought a knife outside.
"What are you gonna do with a butter knife?" Patricia Temoney-Salmon, asked him. Isaiah called her Miss T.
When school let out for spring break, Isaiah had nowhere to go.
"Sometimes home is not an option," Temoney-Salmon told him.
He'd use the pay phone in the hallway at the group home to call relatives in Baltimore.
"Hello? Hello?" she heard him say one day. "I call you all and you don't even talk to me." He hung up.
"They don't give a f— about me," he said.
Temoney-Salmon asked Isaiah to take a ride with her. "Tell me what you can control right now," she said. "Can you control what I say? Can you control what that man over there is doing?"
She told him he couldn't control things around him, only himself: "You just have to accept people the way they are."
Temoney-Salmon came by one Sunday soon after, and Isaiah told her that his half brother—his mother's son—had been stabbed to death by his father. She wasn't allowed to hug him—there are rules against contact—so she put her hand on his.
"I don't think I'm gonna make it if I go back," he said.
Most boys stay about nine months, then transition home, but Isaiah didn't want to leave.
"Nobody loves me," he'd tell her.
"God loves you," she'd say. "I love you."
"When you get mad," he said, "you're gonna walk away, too."
Football season started, and Temoney-Salmon saw a change in Isaiah. He stopped yelling so much. He said he needed new clothes because his were getting too big.
Ride along—or get ran over, he'd decided. He had to try to fit in.
Temoney-Salmon kept leaving Roberta Rinker messages about Isaiah to try to get him into FutureBound. "You'll really like him," she said.
He'd spent the summer after his sophomore year bagging groceries at a supermarket and lifting weights—his grades were high enough that he didn't have to go to summer school.
Rinker got lots of referrals like that. Independent-living programs such as FutureBound are among the only options for teens who are leaving group homes. For every teen she accepts into the program, she has to turn down three or four.
When Isaiah came to Rinker's office for an interview, he told her he was nervous. He talked about how long he'd been at Tracey and how hard it would be to move into independent living.
She went through her checklist: Have you ever experienced the death of a loved one? Have you ever been physically abused? He answered yes on both. He'd been beaten after he left Aunt Angie's house, so badly that he'd started doubting God.
Rinker reminded herself that it didn't matter where you start in life, only where you end up. She called a few days later to accept him.
Temoney-Salmon decided she couldn't be there when Isaiah left the Tracey group home. He'd grown up in front of her. When new boys came there, he'd tell them the rules. When he asked to stay out 15 minutes late one night and she said no, he slammed the door and came back later to apologize.
"I thought about it, and you were right," he told her. "You could have lost your job."
Isaiah's apartment came furnished with two couches and a dining-room table with a glass top. He was the first roommate to move in, so he took the bigger bedroom. It was too quiet to sleep, so he spent the whole night calling people to tell them he'd moved.
"What's your address?" his English teacher at Richard Montgomery asked. Isaiah knew he was near a Metro stop. "Go outside and look at the number on the building," the teacher said. "Then go to the street corner and see what the street sign says." She told him he needed to know these things.
Isaiah had started to tell peers that his teacher was like his stepmother. She advocated for him when he got in trouble—some other teachers thought she was making excuses for him. She didn't cut him slack in class: "I don't want any crap with you and the substitute," she said.
Isaiah set his alarm for 5 am so he could take an hourlong shower and catch the bus to school, and he often fell asleep on the ride. He liked being able to walk outside whenever he wanted. As long as he was in by his 8 o'clock curfew—9 on weekends—nobody bothered him.
He told Rinker he didn't want to come to Life Skills classes, a state requirement, because he already knew how to live on his own. He'd learned how to wash clothes by accidentally bleaching some. He'd learned to get around on the bus by getting lost so many times. He didn't want any more help.
Isaiah had football practice last fall, soon after he started at FutureBound, so he wasn't around a lot. A week could go by without Rinker seeing him. Deon Smith went to Richard Montgomery to buy Isaiah's homecoming ticket and took him shopping for something to wear.
When Isaiah showed up in the FutureBound office with new glasses, Rinker wanted to know where he'd gotten them. His English teacher had paid for them. She'd taken him to an eye appointment for a vision test, and when the doctor said he needed a new pair, she told Isaiah to pick out the frames he wanted. She'd bought him glasses a year earlier, too, after he broke his in a fight.
The pair Isaiah wanted was expensive. He didn't like the way the cheaper glasses—the ones his insurance would cover—looked on him. His teacher didn't want Isaiah thinking he wasn't worth the extra money.
"You don't have to do this," he told her.
"I know," she said. "I want to."
Rinker and Isaiah's case manager, Julie Oldham, called a meeting at Richard Montgomery. They liked that Isaiah was developing a support system, but they wanted to talk about boundaries.
"If we were getting him the glasses, he would have picked out a pair of frames and told us what he wanted," Rinker says. "There's always a process, but he didn't learn how to follow that process."
"He's our kid," Rinker said at the meeting. "If he needs something, we'll provide it."
"I've heard of kids dying from abuse and neglect," the teacher told her. "I've never heard of anybody dying because someone cared too much."
Rinker taught a Life Skills class around the holidays and turned it into a tree-decorating party. She asked the teens what they'd celebrated growing up and what it was like for them.
"When I was in a group home, it sucked," said an 18-year-old named Kahlea. A graduate of Northwest High School in Germantown, she's an aspiring model whom some kids in the program call Barbie. Her mother is mentally ill, and she's never known her father; she's been moved around since she was two. The dining-room table in her apartment is always set, as if guests are coming.
"When I went to live at my aunt's house, it was the first time we made a Christmas list, and I got everything I wanted," she said. "I used to see her put stuff under the tree. One day she told me if I peeked, Santa was gonna put pepper in my eyes."
Rinker told them, "Christmas is a time when people talk about what they're going to do with their family and the presents they're going to get, and that's not always easy when you don't have that life experience. But there's something all of you have inside of you that everybody who lives with their natural family doesn't have. Anybody know what that is?"
"Jesus?" Kahlea joked.
"Resiliency," Rinker told them.
"I ain't never heard that," Isaiah said.
"The thing I know about all of you in this room is that I could stick you pretty much anywhere and you would adapt and you would survive."
She handed out paper ornaments and asked them to write down what they wished for. Isaiah wrote "a new roommate"—he thought his was too messy—but Rinker said she wasn't hanging that one up. When Kahlea said she had a mom but not a family, Rinker told her, "Moms are good enough—some people would kill to have a mom."
"I would," Isaiah said.
"None of you could choose what happened to you before this age, right?" Rinker said. "You were a victim of your circumstance—your mama, your daddy, your community, society. All that. But now you're old enough.
"I've probably worked with 200 kids, and every one of them has a sad story like you're telling. But guess what—the sad stories really don't get to me anymore. They're a dime a dozen. The bottom line is what you do with your story."
Isaiah skips the chips and salsa at El Mariachi in Rockville one night in December because he's trying to get in shape for football. He wants to talk about why he's stressed out. Grades are part of it—he's getting a D in biology—but girls are most of it.
"Scotch on the rocks," he jokes to the waiter before ordering an orange soda. "One minute you do what you're supposed to do—be respectful—then you're not doing something right. Or they just decide they wanna do something dumb," he says.
One of his ex-girlfriends cheated on him, then she saw another girl hugging him outside a movie theater and claimed he was the one cheating on her.
"Every couple minutes she'd just think of something to get mad about," he says.
Isaiah has been worrying about girls since he was nine, when he worked the sound booth at church to impress them. The first time he goes out with someone, he puts the date in his phone so he'll remember their anniversary.
He waits two months before he takes a girl to Austin Grill or the movies, so he can make sure she's still around—good times or bad.
"If she don't like you when you're down and out," he says, "she's not gonna like you at all."
Rinker knows about one of the girls who's been driving Isaiah crazy. He shares that stuff now. He still argues with Rinker about going to Life Skills, but that's not personal. "I know how to go get my own state ID," he tells her. "I've been on my own since I was young."
"What about handling a checkbook?" she asks.
"Yes," he says. "Don't use it unless you really, really need it."
Isaiah didn't want to go to the FutureBound holiday party at Maggiano's Little Italy in Chevy Chase. Everybody had to dress up. No sagging jeans with boxers showing. It was going to be a nice dinner. An adult dinner.
He didn't want to put a suit on. Neckties made him nervous—you could get strangled that way. If you wore a suit in Baltimore, you were going to a funeral. He has three funeral programs on the wall in his bedroom, symbols of a life he's trying to leave behind.
Maggiano's private dining room was nicely decorated, and servers brought out Shirley Temples. Isaiah sat with a kid who'd done time for robbery and a girl who'd once climbed out a window so social workers wouldn't take her from her mother. Two of the teens at his table were fathers; none had grown up with one.
After dinner, NCCF's Sheryl Brissett-Chapman stood up with a candle in her hand and spoke about hope and forgiveness. "We are more than what has happened to us," she said, "much more."
All of the teens lit candles of their own—for someone who had hurt them or helped them, or for someone they missed. "I'm lighting this candle in remembrance of my mother," Isaiah said.
They'd just finished singing "Silent Night" when Isaiah took out his cell phone and a FutureBound case manager tapped his arm and told him to put it away.
"Get the f— off me!" Isaiah said, loudly enough for everyone to hear. He still doesn't like to be touched—only certain people can hug him, like his English teacher, his aunts, and Rinker. He has to trust someone first.
Chapman told everyone to go on with the next song, a hip-hop version of "Jingle Bells," and she and Deon Smith sat down next to Isaiah. Isaiah told them about his past and how being touched can set him off. He said he was sorry.
What should you have done? Smith asked him. He'd talked to Isaiah about his temper before.
"I should have gotten up and walked away."
In the first football game of the year last fall, Isaiah had three sacks against Einstein High School, but his team lost in four overtimes. It ended up going 0–10.
"We'll do good all the way up to the end zone, then there's one pass someone drops, and that's the end of the game," he says. "Next year I'm running the ball."
Isaiah likes football because he gets to hit people. He thinks about what's been done to him and takes it out on the player in front of him. He's worried about college: He gets chill bumps when he watches football on television, but scouts don't come to see teams that don't win.
He met his friend Max through football. They got to talking and realized they'd both grown up without a father. They laugh about the fact that Max was born in Austria and Isaiah had never heard of it.
Max calls Isaiah his brother, but it took a long time for Isaiah to call him a friend. Until recently, he had only "associates." A friend was someone he could count on for anything. He had a best friend in Baltimore, but that guy died. Teammates were teammates. He wasn't interested in friends.
He went to Max's house for Thanksgiving last year. He was nervous about it—he didn't want Max's mother to know he'd been locked up. Max is going to college next year and planning to be a chiropractor. But she asked about his life, so Isaiah told her he'd dealt drugs and gotten caught.
He laughs: "There was like a moment of silence."
Isaiah told his father he loved him once, about two weeks before his dad died. By that time, Isaiah says, he could see the man's bones.
Isaiah wants to get married someday and have a son. He'll name him Isaiah Paul Spriggs IV.
"If I do make a child, and me and the mother's not getting along? I'm there every day—regardless," he says. "Even if we not in the same house, I'll be there at 6 to pick my son or my daughter up, take them to and from school, take them out on the weekends, do family activities."
There are days he wakes up and wants to talk to his mother, times he wishes he could say to a friend, "Hey, look what me and my parents did. Me and my family." He doesn't have a picture of his mom, but he can see her face in his mind. He thinks about her when something big happens. Eighth-grade graduation. A good play in a game.
"You know her spirit is still with you," Roberta Rinker once told him. "That's probably why you've gotten as far as you have."
Yeah, he said, I know.
If he doesn't get to the NFL, he'll be an electrician—he used to break VCRs just so he could fix them. Either way, he says, he'll go to college and own a business. He's turning 18 next month. His worst fear is not doing everything he says he's going to do.
"People would be sitting at home like, 'I knew it. He didn't do nothing with his life,' " he says. "I'm doing what I gotta do now to accomplish good things for my child, so I can be like, 'See? I did that.' "