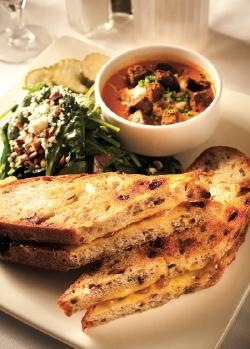 The Cajun Experience
In an age when celebrity chefs try to gussy up comfort food, this clapboard house is refreshingly honest in its intentions. Co-owner Bryan Crosswhite dusted off eight generations of his family's Louisiana recipes for a menu of Cajun staples, including boudin balls, gumbo, and—the menu's highlight—a po' boy sandwich. Crosswhite and his wife, Melissa, give their dishes an extra dose of authenticity by importing Leidenheimer bread, Café du Monde beignets, and Gulf Coast seafood from Louisiana. And there's live music on the patio every Saturday night.
14 Loudoun St., SE; 703-777-6580. Entrées $11 to $14.
Döner Bistro
Outside, this German cafe feels like a European biergarten; inside, it's an explosion of '70s-style orange-and-brown wallpaper. The pint-size kitchen specializes in sandwiches—a griddled flatbread pocket bursting with beef (Friday through Monday) or chicken (Tuesday through Thursday) along with lettuce, tomato, and a tangy yogurt sauce. One sandwich and an order of hand-cut, paprika-dusted fries could feed two people. Wash it down with one of the nearly 20 German beers.
202 Harrison St., SE; 703-779-7880. Entrées $6.45 to $8.95.
Fire Works
Should you go with a Gorgonzola-topped pizza with aged balsamic and bacon or a pie with pico de gallo and cheddar? Either way, this wood-oven pizzeria—next to sister restaurant Tuscarora Mill—goes way beyond plain cheese. Alongside the pizza are worthy small plates such as a trio of bruschetta or bacon-wrapped shrimp, plus a good lineup of American craft beers.
201 Harrison St., SE; 703-779-8400. Entrées $6.95 to $17.75.
Lightfoot Restaurant
Chef/owner Ingrid Gustavson's seafood-heavy menu takes inspiration from the South (Sambuca-spiked oysters Rockefeller), Asia (pad Thai), and Mexico (fish tacos), but the dishes have a common denominator: Paula Deen's rib-sticking cooking style. Homey creations—such as buttered grits with bacon-wrapped shrimp—keep the imposing two-level dining room, a former bank, from feeling overwhelming. We felt comforted by a refined twist on a childhood favorite: a lunchtime special that paired a grilled fontina sandwich with lemon/pepper jelly and a crock of tomato soup.
11 N. King St.; 703-771-2233. Entrées $10 to $30.
Lola Cookies & Treats
This sliver of a bakery packs an impressive lineup of sweets. Owner Lorraine Hooper's bestseller is her ginger-chocolate cookie, a chewy patty with a rich gingery bite. We were just as taken with the day's special lemon cupcake, slathered with a salty chocolate frosting, as well as the Congo bar, a blondie studded with chocolate chips and walnuts. You can order most of the menu online for shipping, and on Saturday from 8 to noon Hooper sells her goods at the Leesburg farmers market (20 Catoctin Cir., SE).
109 S. King St.; 703-669-6970.
Mom's Apple Pie Company
Forget all those classy cupcakeries—this is what a bakery is meant to be. With its pie-tin-covered ceiling, 16 varieties of pies, and three decades of family ownership, the shop has a welcoming Americana nostalgia. The main attractions are the ten types of fruit pies, stuffed with mostly local produce, including Shenandoah apples and Virginia blackberries. Other sweets are good, too: chocolate-dipped coconut macaroons, lemon and chocolate meringue pies, and brownies. Of the five varieties of bread, we like the fluffy buttermilk loaf—it would make terrific French toast.
220 Loudoun St., SE; 703-771-8590.
The Wine Kitchen
This 1½-year-old restaurant/wine bar is so laid-back and familiar you might feel as though you've wandered into a dinner party—one that's the hottest invitation in town. Crowds are plentiful and reservations aren't taken, but if you can snag a chair at one of the barnwood tables, you'll be rewarded with such indulgences as wine available by the taste, glass, flight, or bottle; a croque monsieur oozing with Gruyère; a locally made bratwurst; or a clever take on chicken and waffles made with quail and bacon-caramel syrup.
7 S. King St; 703-777-9463. Entrées $9 to $17.