While food trucks aim to be convenient and communicative—they often relay that day's location via Twitter and Facebook—we've hit roadblocks trying to track them down. Lousy weather, bad parking karma, and a lack of crowds at a chosen spot can send a truck packing. But if you're a fan of top-notch street food and you walk outside your office one day looking for a truck on the corner, these are the ones to watch for.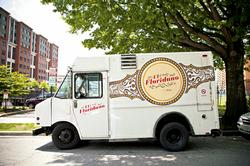 El Floridano (Twitter handle: FLmeetsDC), a recent addition to the food-cart scene, has become one of our favorites. Generous sandwiches include an authentic Cuban, a Vietnamese bánh mì that swaps turkey meatloaf for pork, and a kaffir-lime-leaf-marinated grilled-chicken sandwich. All are packed with flavor and can be requested with tempeh to make them vegan. Try one of the amazing soups, which have included roasted eggplant and garlic as well as spicy avocado and citrus.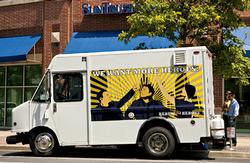 Rebel Heroes (Twitter handle: rebelheroes; also on Facebook) hovers mostly around Metro's Orange Line in Arlington but has plans to venture into DC. The bánh mì–heavy menu of ten sandwiches includes an outstanding pork-meatball bánh mì, the crumbled meat marrying surprisingly well with traditional toppings of pickled veggies and cilantro sprigs, and a roast-pork sandwich that sports pickled jalapeño slices and Sriracha-spiked mayo. Wash it all down with iced Vietnamese coffee.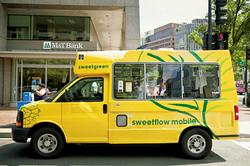 Unlike at its fixed stores, Sweetgreen's Sweetflow Mobile (Twitter handle: SweetflowMobile; also on Facebook) proffers salads that are prepackaged and not as fresh—but they're still good. What has us following the truck is the tangy swirls of frozen yogurt, which come with three free toppings. We're partial to raspberries, chocolate chips, and toasted almonds, but when the mangos are ripe it's a tougher call.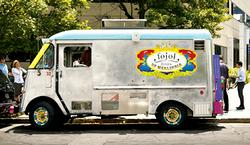 You can often hear the Fojol Bros. truck (Twitter handle: fojolbros; also on Facebook) before you can see it. It's the one with the music blaring and the costumed purveyors—in turbans, jumpsuits, and handlebar mustaches—dancing in the streets. But it's the Indian eats that'll get you hooked. Standouts from the revolving menu have included spicy cauliflower and potatoes and a fantastic chicken masala. Don't miss the frozen lassi pops in flavors such as ginger and coconut.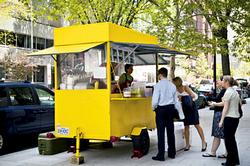 Newer operations may have flashy trucks and Twitter accounts, but the old-timer Bulgogi Cart holds a special place in our hearts. The yellow stalwart is stationed at 14th and L streets in Northwest DC from 10 to 2:30 daily, and it serves spicy or mild chicken or beef bul goki (Korean barbecue) with white rice and kimchee. Order bibim bap (bul goki capped with an egg) if you think everything tastes better with a fried egg on top. A second location near George Washington University opens this month.
This article appears in the July 2010 issue of The Washingtonian.
Subscribe to Washingtonian
Follow Washingtonian on Twitter
Follow the Best Bites Bloggers on Twitter at twitter.com/bestbitesblog
More>> Best Bites Blog | Food & Dining | Restaurant Finder