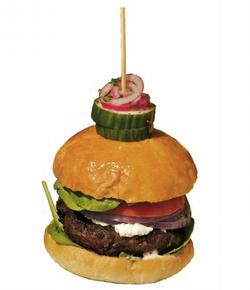 A ketchup-and-mustard color scheme is the only thing Joe's Amazing Burgers has in common with other fast-food joints. The renovated interior's 1940s-era arches and vintage moldings are now the backdrop for a revamped menu courtesy of new owner Al Laroussi. The beef, bison, and pork in the burgers and the house-made chorizo are all-natural. The quality shows.
Start with crab-and-artichoke dip ($10) served with toasted baguette slices. Mushroom satay ($6 for three skewers) is made with marinated, grilled cremini buttons and served with wasabi-lime aïoli. Of the burgers, served with fries, we liked the Butcher's Choice ($12), with cheddar, horseradish mustard, and smoked mayonnaise; the Truffle Love ($15), with port-caramelized onions and goat cheese; and the Run for the Border ($12), with jalapeño jack cheese, onion rings, and smoked-tomato mayo. We passed up the veggie burger ($12) when told the patties came from Trader Joe's, but a juicy turkey burger was a hit.
The BLTC sandwich ($9), served on Texas toast, updates a classic with creamy goat cheese and avocado, and it gets a zing from wasabi-lime mayo. Sweet-potato fries with buttermilk ranch dressing ($5) are perfect for sharing.
A few things don't work so well. Milkshakes ($5.50) were runny and too sweet. A side of macaroni and cheese was oily and small for its $4 price. Sliders ($5) off the kids' menu were cooked to hockey-puck consistency.
And on a shoestring budget, forget about the $26 Kobe-beef burger.
Open daily for lunch and dinner.
This article appears in the July 2010 issue of The Washingtonian.
Subscribe to Washingtonian
Follow Washingtonian on Twitter
Follow the Best Bites Bloggers on Twitter at twitter.com/bestbitesblog
More>> Best Bites Blog | Food & Dining | Restaurant Finder