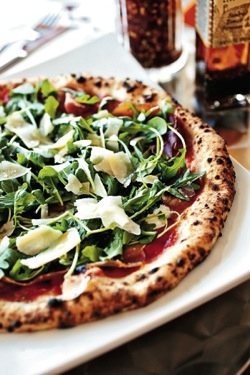 When Anastasiya Laufenberg and Enzo Algarme opened Pupatella in 2007, it was groundbreaking. In a tiny cart by the Ballston Metro station, they were turning out not the usual hot dogs or pretzels but pizza cooked to order. Even more surprising was that their oven, barely bigger than a microwave, was turning out some of the area's best pies.
Two months ago, the pair opened a brick-and-mortar restaurant, bringing in a wood-fired brick oven from Naples to blaze pies at 1,000 degrees Fahrenheit.
While Pupatella has been packed since day one, Algarme—who trained at a Neapolitan pizzeria—isn't yet turning out consistently good pies. Both the buffalo-mozzarella-topped Real Margherita ($12) and a classic prosciutto-and-arugula combination ($12) have been great successes. Naples-style pizza is meant to be a little wet in the middle—buffalo mozzarella has a high water content—but some pies, including one with locally made sausage, onions, and two kinds of cheese, have been too soupy for the crust to hold up. And as soon as a crisp-skinned calzone ($9) was pierced with a knife, liquid gushed out.
Laufenberg and Algarme are still settling into their space, and they're keeping the cart idle until they've ironed out the kinks at the restaurant. They have top-notch ingredients, a talented pizzaiolo, and a powerhouse oven. It should be a matter of time until everything clicks—and if you've ever waited in line for a pizza from the cart, you know it's worth the wait.
5104 Wilson Blvd., Arlington; 571-312-7230. Open Tuesday through Saturday for lunch and dinner. Pizzas $9 to $12.
This article appears in the August 2010 issue of The Washingtonian.
Subscribe to Washingtonian
Follow Washingtonian on Twitter
Follow the Best Bites Bloggers on Twitter at twitter.com/bestbitesblog
More>> Best Bites Blog | Food & Dining | Restaurant Finder