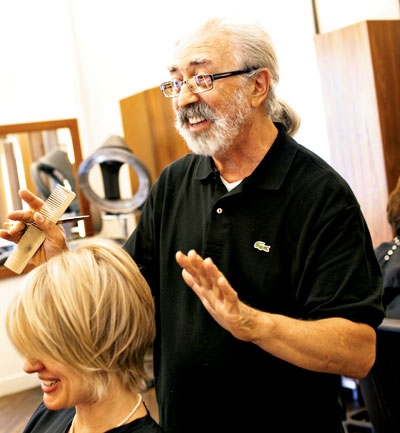 He approaches a woman seated in his salon chair with his arms outstretched as if about to conduct a symphony.
"First, we are going to grow the hair," says Nuri Yurt, the owner of Toka Salon. He waves his hands over her dampened salt-and-pepper locks. His fingers flick around the perimeter of her head, tousling here and fluffing there until he's ready to deliver his verdict. "But we are not there yet."
The woman in the chair doesn't say a word. Why argue with a man who's been a hairdresser since he was ten years old?
"I was a very hyper child," says Yurt, 42, who grew up in Istanbul. "My family wanted to keep me busy." So they sent him to be an apprentice at a salon in that city owned by a family friend.
His early training wasn't as tough as it sounds. Boys such as Yurt grew up learning a trade, and those who didn't go into carpentry or become electricians—two other common trades in Turkey—apprenticed in hair salons, where their training was an after-school activity. Tips—for sweeping the floor, for bringing tea, for hanging a jacket—were plentiful.
Yurt was taught how to wash, roll, blow-dry, color, and, finally, cut the famously thick hair of Turkish women.
Istanbul, says Yurt, is cosmopolitan and fashionable, and salons such as Toni & Guy not only have set up shop there; they've opened training academies. For every high-end salon charging $500 for highlights, another charges $5 for a blowout—meaning that women from all walks of life can make daily trips to the salon.
"In Turkey, hair is an art," says Yurt. "Painters work on the paper; we work on the women."
Yurt's flagship salon is in Georgetown. He also has Toka salons in Alexandria (opening this month) and DC's Penn Quarter as well as a Manhattan outpost on Madison Avenue—where his cuts cost $350 as opposed to the $125 and up he charges in Washington. He has handled the heads of the previous four First Ladies and cut the hair of the famous (Bo Derek) and infamous (Michaele Salahi has been a client for ten years). If you type "Who are some famous Turkish-Americans?" into WikiAnswers, just two names come up: cardiothoracic surgeon and Oprah-endorsed TV personality Mehmet Oz and Nuri Yurt.
But Yurt isn't the only talented Turk in town. Especially in Georgetown, where there are so many Turkish salon owners and hairdressers, Wisconsin Avenue feels more like the Bosporus.
"This is our territory," Yurt says. Half of the stylists he employs are Turkish. He has his own Turkish apprentice, a gorgeous young woman named Sezgi Acur who is currently mastering the blow-dry.
"Everyone wants to go into the business here because everyone here is making it," says Yurt, who lives in Great Falls with his wife and son.
Turkish-owned or co-owned salons include (working down from upper Wisconsin Avenue) Digos, Elite for Hair, Hair Lounge, Violet, Toka, O Salon, and (moving along M Street) Alanya Spa, Tara Salon, and the Ataturk of them all, George at the Four Seasons.
While these hairdressers may come from Istanbul, most who set up shop here also come from George at the Four Seasons.
"It's because of me," insists owner George Ozturk when asked why there are so many Turkish hairdressers in Washington. He's speaking literally and figuratively. Two of five sons, Serhut and Serkan, work for him at the salon; another, Sertac, is a stylist at Urban Style Lab—although when asked to confirm this, George only nods, as if uttering the name of another salon is physically impossible. Ozturk's wife, Deniz Caycik, also works for him.
Ozturk is a father figure to many of his employees. He recruits candidates from Istanbul, and when they arrive in Washington, his salon functions as a language lab: "I teach them to speak English. The single ones learn the fastest because they get American girlfriends." Ozturk also acts as a sponsor for their green cards.
Ismail Tekin is one of Ozturk's star graduates and now one of his most booked employees. When he arrived in 2003, Tekin knew no English and spent three months living in Ozturk's home. But he soon got an American girlfriend.
"I didn't come here for the money," says Tekin, 34, who has close-cropped hair and wears multiple earrings. He made about the same salary in Istanbul. "I came to the United States for my future," he says, hinting that if he ever wanted to open his own salon, mastering English was a skill as important as cutting and coloring. Tekin's brother Ibo also works for Ozturk.
As Ozturk saunters through his bustling salon, he points out more of his Turkish staff, as if giving a tour of the Grand Bazaar. "Here's one," he says, indicating Adnan Tekcan, a mid-fiftyish man in a white T-shirt emblazoned with an American flag. "Here's another," he says, passing Omer Cevirme. "Nancy Pelosi is in his chair once a week."
Ozturk pauses in front of Onder Yavuz, 29, who, with his '70s-style mane, looks like the love child of Jim Morrison and Farrah Fawcett. His father owns a salon in Istanbul. Asked why he also became a hairdresser, Yavuz says, "Maybe it's the genes."
In Turkey, hairdressing is a profession often passed down from father to son. Although more women are now entering Istanbul's new hair academies, previous generations of women either stayed home with their mothers, especially if they were Muslim, or got jobs in retail.
As he makes the circuit, Ozturk asks the men how old they were when they began in the industry. "Fourteen," they all say.
With an unkempt ponytail under a white Lacoste baseball cap and a wrinkled Burberry polo shirt, Ozturk is about as far from Warren Beatty in Shampoo as you can get.
"Men have to be macho," he says when questioned about his own hair. "The mirror belongs to women."
Often, for stylists such as Ozturk and Nuri Yurt, the face staring back belongs to a tough customer.
"If you make a Turkish woman happy, you can make anyone happy," says Ozturk. "In Istanbul, when you do a woman's hair, if she goes back to her office, back to her home, and people don't stop her on the street and say, 'Wow,' if that doesn't happen, you are not that good and you should just go and work at the train station."
Life for Turkish women, says Ozturk, is different than for Washington women. In Turkey, he says, "they have beauty salons on the beach. Before you go home, you get a blow-dry."
Says Yurt, who worked for Ozturk briefly before opening Toka in 1997: "Turkish women really spend money on their hair. Every time they take a shower, they want their hair done."
Yurt is now mussing the dampened hair of Mirat Yavalar, a property manager who's been a client for 20 years. "Turkish women know the best," she says, referring to hairstylists. "We know which one is good, which one is bad. We are so difficult to please." Her smattering of freckles coordinates with her strawberry-blond hair. "As a culture, we are more direct. We say what's on our mind."
American women are pussycats by comparison, says Serkan Sut, co-owner of Hair Lounge: "They are more simple. They don't care about the blow-dry like Turkish women. They're much more into wash-and-go styles."
Like his compatriots, he began his career at an early age. "In Istanbul, we start young because we don't want to sit home with mother," says Sut, who had dreams of being a professional soccer player.
He had the choice of going into carpentry like his father and uncles. "That was too dusty and loud for me," he says.
Sut's mother suggested he try hair. "I was very good with my hands when I was young," he says. "And I was into color."
He came to Washington in 1991 and spent five years training at Kenny's Hair Salon in Arlington, which is owned by Kadir Gul and, like George at the Four Seasons, is another proving ground for stylists newly arrived from Turkey.
It was Sut's goal to have his own salon. He opened Hair Lounge with business partner Daniel Levy in 2006. Now 36, Sut exemplifies another Turkish trait: ambition.
"My grandmother always told me to do something big," he says, turning to attend to his next client. "If you're going to drown, drown in the ocean, not in the sea."
This article first appeared in the September 2010 issue of The Washingtonian. For reader-exclusive hair and beauty deals, click here.