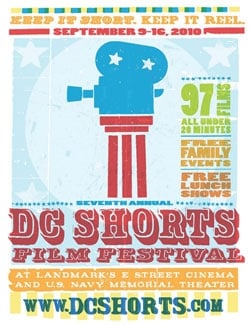 >> Want the best of the fest? Click through for our favorite shorts.
Film lovers with short attention spans should get excited: DC Shorts is officially upon us! Now in its seventh year, the festival begins tonight with its first showcase and a party at Madame Tussaud's. During the festival, which runs through September 16, 97 films—ranging anywhere from six to 20 minutes—are organized into nine showcases and held at two venues: E Street Cinema and the U.S. Navy Memorial Theater (701 Pennsylvania Ave., NW; 202-737-2300). Tickets cost $12 per showcase and $30 for a package of three and are available here.
What started out as a pet project for festival director Jon Gann has grown exponentially, even adding a screenplay competition four years ago. The first year the festival was held, only 78 submissions came in. This year the jury had to select from 803 films and 115 scripts. A film director by background, Gann began the DC Shorts Film Festival after experiencing disappointment on the festival circuit.
"Everything was about profit and sponsors," says Gann. "We really felt it was more important for people to find a sense of community. It's about giving everyone the filmmaker experience."
A native Washingtonian, Gann has lived in downtown DC for the past seven years and tries to his city in the festival.
"We have a mission to show as many local films as we can," Gann said.
Don't have time to take in every single film? Here are some of the highlights:
They might be made of wax, but you'll hardly be able to tell the difference as you party with celebrity mannequins at Madame Tussaud's Wax Museum. Tickets to the festival's kick-off party are $10, and the event goes from 9 to midnight. Short-film celebrity Roger Ross Williams, the 2010 Oscar winner for best short documentary, will be there.
See Williams again screening his Oscar-winning film, Music for Prudence, Friday, September 10, at 5 PM at E Street Cinema. Stay afterward for a Q&A session with the director.
If you work downtown and are in need of a cubicle break, take in one of three lunchtime screenings at E Street Cinema for free. September 13, 14, and 15, from noon to 1.
There are two free showcases of family-friendly films on Saturday, September 11, from 11 to 1 at E Street Cinema and noon to 2 at the U.S. Navy Memorial.
For more indie-film fun, check out the screenplay competition October 16 at the Mount Vernon United Methodist Church. With help from actors, six writers will read their screenplays, and the audience favorite will be in the 2011 DC Short Festival. If you're feeling particularly adventurous, you can audition for one of the readings Friday, October 15, at 10 AM.
Subscribe to Washingtonian
Follow Washingtonian on Twitter
More>> After Hours Blog | Arts & Events | Happy Hour Finder | Calendar of Events