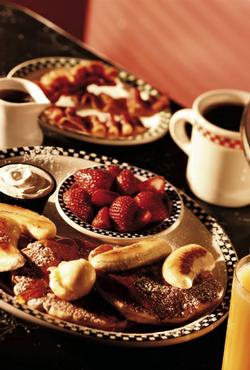 You'd expect to find passionate proponents of the local-food movement at such celebrated farm-to-table restaurants as Poste, Restaurant Eve, and Patowmack Farm. But at a chain synonymous with burgers, shakes, and fries?
"It's better, it's better for you, it's the right thing to do, and now is the right time to do it," says Silver Diner cofounder Ype von Hengst of his company's surprising embrace of local foods.
Sandwiches at all area Silver Diners (silverdiner.com) start with breads from local bakers, burgers are fashioned from hormone-free beef from nearby farms, the coffee comes from the highly regarded Charlottesville coffeemaker Greenberry's, and eggs arrive a few times a week from Amish country. There are three local beers (Starr Hill among them) and four wines by the glass from Virginia wineries—more than you can find at most high-end restaurants in DC.
Among recent specials on the separate seasonal menu: a Greek salad with local greens and a meaty fried soft-shell crab topped with diced tomatoes and fresh basil. Revamped side dishes include vegan coleslaw, steamed edamame, and brown rice.
Customers can buy some of the fresh bounty: The owners have added a weekend farmers market at some locations, selling fruits and vegetables in the restaurants' parking lots.
It's still possible to find a thick shake and a heaping plate of fries, but these greasy spoons have become a lot less greasy. And if a chain like Silver Diner can do it, then the eating-local movement has a chance to find a following among more than just the foodie elite.
This article appears in the September 2010 issue of The Washingtonian.
Subscribe to Washingtonian
Follow Washingtonian on Twitter
Follow the Best Bites Bloggers on Twitter at twitter.com/bestbitesblog
More>> Best Bites Blog | Food & Dining | Restaurant Finder