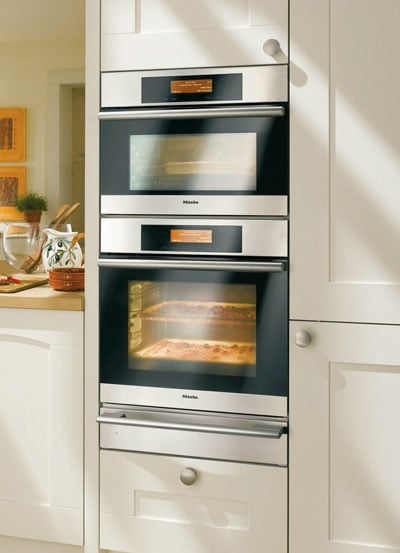 Someday kitchen appliances will be smarter. Your stove will check in with the refrigerator via computer chip and download recipes using ingredients already in the house. Similar technology will enable your dishwasher and refrigerator to commune with the power company to determine the best time to start a wash cycle or defrost the freezer—"best" meaning when electricity is cheapest and most available.
The Washington area isn't there yet—local utilities are just beginning to install meters and build out the grid—but innovations in dishwashers, cooktops, refrigerators, and ovens are saving resources and time.
Here's a short list of ultra-efficient appliances we'd love to install in our dream kitchen.

Electricity Hogs—Fridges and Dishwashers
Refrigerators are traditionally big energy guzzlers. The GE Profile Y Series Side-by-Side meets government Energy Star standards—meaning it's energy-efficient—but has timesaving perks such as "custom cool" to chill food and drinks in minutes instead of hours and to thaw meat in hours instead of days, an ice maker that can churn out ten pounds of cubes, and a filtered-water dispenser that measures out the amount you program in. Price: $2,859 to $3,739 depending on finishes and extras.
Even better, Whirlpool Gold Resource Saver refrigerators go beyond federal minimum Energy Star standards by more than 30 percent and, according to the manufacturer, use less electricity than a burning 60-watt bulb does in a year. A smart-defrosting feature decides when the compressor (the main electricity drain) should be on or off. Sensors restore the set temperature when you put warm food into the fridge or open and close the door a million times during a party. Another bonus: a carbon filter that banishes odors (15 times more effective than baking soda). Price: $1,249 to $1,499.
Dishwashers—which can now be thought of as robots that clean dirty dishes—have also gotten green makeovers. Bosch's 800 Plus Series surpasses Energy Star regulations and uses less water. The company claims that the models are the quietest dishwashers on the market. They have visual sensors that gauge how dirty dishes are and can assess how big a load is by noting changes in water temperature and pressure. Press the "eco action" option and water temperature and cycle length will be adjusted for energy savings of up to 25 percent. You can run the top or bottom rack only or choose a speedy 30-minutes-or-less wash. Price: $1,649 to $2,099.
Slightly less expensive is the Whirlpool Gold Resource Saver Tall Tub Dishwasher, with features including a rinse-only cycle; "power scour," which removes crusted-on food without extra water; a speed wash that cleans in an hour or less; and sensors that assess the size of the load and dirt level to determine the cycle's length and intensity. Price: $700 to $1,000.

Multitasking Ovens and Speedy Cooktops
Ovens that do it all—or at least more than they used to—are becoming must-haves for time-pressed cooks. Miele's MasterChef Wall Oven has a microprocessor that automatically chooses the right temperature and cooking mode based on type of food. An auto-roast feature "sears" a roast or poultry at high temperatures, then lowers the heat for full cooking. Used with the roast probe (an oven-thermometer-like gizmo), it automatically turns the oven off when the temperature is high enough to finish the cooking. Another button creates a brick-oven effect, great for pies and pizzas, by combining intense conventional and convection heat. Price: $2,900 to $4,100.
The Maytag Gemini Double Oven Freestanding Gas Range is the size of a standard range but has a double oven so you can make, say, cupcakes and a meatloaf at the same time—each section has its own temperature controls. The smaller upper oven preheats in half the time for quick meals and also bakes, broils, toasts, and warms, while the lower oven can be used in regular or convection mode. Price: $1,549 to $1,849.
The Whirlpool Gold Convection/Microwave can roast, grill, steam (with mist), and zap food in microwave mode. It also doubles as a convection oven to brown food but keep it juicy in far less time than conventional ovens. Price: $1,039.
Entire Web sites are devoted to the advantages of induction cooktops. You can boil water in nearly half the time it takes on a gas stove, and because only the cookware is heated, the stovetop stays cool—along with your kitchen. Induction cooktops operate electromagnetically, which means that when you put a cast-iron or steel pot on the zone or hob (on a gas stove it would be called a burner), the magnetic material under the ceramic surface transfers energy to the cooking vessel, making it hot.
Gaggenau and Wolf, two high-end manufacturers, have just come out with models that line up flush with kitchen counters for a sleek "where are the appliances?" look. Gaggenau price: about $4,500; Wolf: about $3,000. (Prices for both depend on number of zones for cooking.) On the somewhat lower end of the spectrum—these cooktops are pricey—is a Kenmore Four-Zone Induction Cooktop for $1,615.
This article first appeared in the October 2010 issue of The Washingtonian.