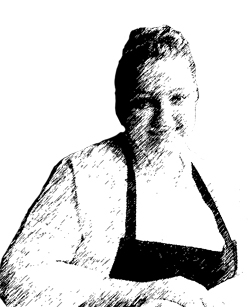 Who: Tiffany MacIsaac, pastry chef at Birch & Barley
Age: 29.
Why we chose her: Childhood favorites (oatmeal cream pies, Hostess cupcakes) get a gourmet upgrade, and she puts together one of the area's best bread baskets.
Hometown: Haiku, Hawaii.
Also worked at: Union Square Café and Cru in New York City.
Childhood memory: "A Japanese lady would sell creamsicles and pudding pops on the beach. My sister would get one and I'd get the other, and we'd go halvsies. Now I always have a pudding pop on my cookie plate."
Food epiphany: "I turned 18, moved to New York, and got my first job as a hostess. I was scared to go in the kitchen. One day they cooked a tasting menu for me, and I realized food wasn't just to fill your stomach."
Guilty pleasure: "Laffy Taffy. No one ever has it, so when I see it, I get like 30 and keep them in my purse."
Favorite cheap eat: "BonChon Chicken in Annandale. That was a spiritual fried-chicken experience."
Most visited Web sites: Perez Hilton, Eater, StarChefs.
Stimulant of choice: "I drink a decent amount of coffee. Irish coffee with Jameson and Baileys—but only on a day off."
Subscribe to Washingtonian
Follow Washingtonian on Twitter
Follow the Best Bites Bloggers on Twitter at twitter.com/bestbitesblog
More>> Best Bites Blog | Food & Dining | Restaurant Finder