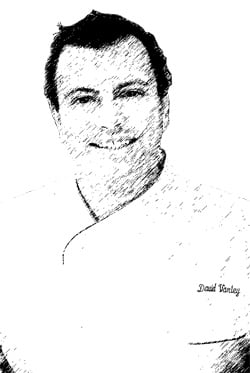 Who: David Varley, executive chef at Bourbon Steak
Age: 29.
Why we chose him: Lots of celebrity-chef restaurants lose their shine once the boss flies to another outpost, but Varley has kept this kitchen strong, turning out his own citrus-steamed halibut and pork bánh mìalongside San Francisco–based chef Michael Mina's classics.
Hometown: Stillwater, New Jersey.
Also worked at: Lespinasse in New York City; Bradley Ogden in Las Vegas.
Comfort food: "Any pie my mom makes."
Guilty pleasures: "Pork rinds, Pixy Stix, and hot dogs."
Favorite cheap eat: "I'm a secret ambassador for El Pollo Rico in Wheaton and Arlington."
Always in his fridge: "White Burgundy, mustard (I have something like 18 kinds), and hot sauce, which I collect."
Favorite burger: "The lamb burger at Citronelle's lounge is the most delicious thing on earth."
Memorable meal: "Cooking for Jean-Louis Palladin at Clio in Boston. It was known that he had cancer, and this was almost like a last supper for him. Ken Oringer, the chef, got a two-pound black truffle—it was the size of a dinner plate."
Follow the Best Bites Bloggers on Twitter at twitter.com/bestbitesblog
More>> Best Bites Blog | Food & Dining | Restaurant Finder