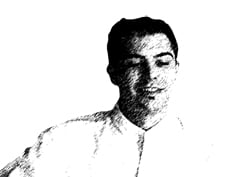 Who: Ruben Garcia, director of research and development at Think Food Group (Minibar, Cafe Atlantico, Oyamel, Jaleo, and Zaytinya).
Age: 32.
Why we chose him: José Andrés's right-hand man runs the dazzling Minibar and helps his boss plan restaurant concepts in Las Vegas and Miami.
Hometown: Barcelona.
Also worked at: El Bulli in Roses, Spain.
Memorable meal: "José Andrés and I cooked for Salma Hayek's wedding in Venice. The banquet was in an opera house that didn't have a kitchen, so we had to improvise one on two boats. The menu was ten courses. We started that day at 6 am and finished at 4 am, then left for Washington at 8 am."
Favorite sandwich: "A really good grilled cheese with potato bread—it gets crunchy around the edges and moist inside. I use Emmenthaler with Parmesan, so you get a little bit of sharpness, and basil or whatever is growing in my garden."
Get-up-and-go drink: "Cola Cao, a cocoa mix from my childhood. It's like Nesquik."
Restaurant that inspires him: "Every restaurant has something special. Even something bad can inspire you. I don't go to McDonald's because of the quality, but there's something amazing about how they can bring so many people to their locations. There's something to learn there."
Subscribe to Washingtonian
Follow Washingtonian on Twitter
Follow the Best Bites Bloggers on Twitter at twitter.com/bestbitesblog
More>> Best Bites Blog | Food & Dining | Restaurant Finder