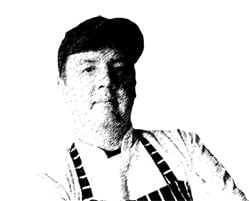 Who: Justin Bittner, executive chef at Bar Pilar
Age: 30.
Why we chose him: He's turned a drinking den into a dining destination with seasonal dishes—peaches with olive oil and sea salt, crispy potatoes with malt aïoli—that are simple but big on flavor.
Hometown: Baltimore, where he still lives.
Also worked at: Tio Pepe's in Baltimore; the Elkridge Furnace Inn in Elkridge, Maryland.
Guilty pleasure: Crunchy tacos at Taco Bell.
Favorite cookbook: Ad Hoc at Home: "Thomas Keller's recipes are perfect. For the fried chicken at Bar Pilar, we started with the Ad Hoc recipe. I also really like Momofuku and Simple French Food by Richard Olney."
Kitchen disaster: "Recently I was trying to season a cast-iron pan. I put an inch of oil in it and cranked up the heat. I forgot about it, and it caught on fire. I had to throw it in the alley, and the sidewalk lit on fire, too."
Most visited Web sites: "I don't even know how to use Microsoft Word."
Post-work drink: "Tecate beer and a shot of Jameson. The industry standard."
Last meal: "I have no interest in caviar and foie gras. I'd have my mom's lasagna."
Follow the Best Bites Bloggers on Twitter at twitter.com/bestbitesblog
More>> Best Bites Blog | Food & Dining | Restaurant Finder