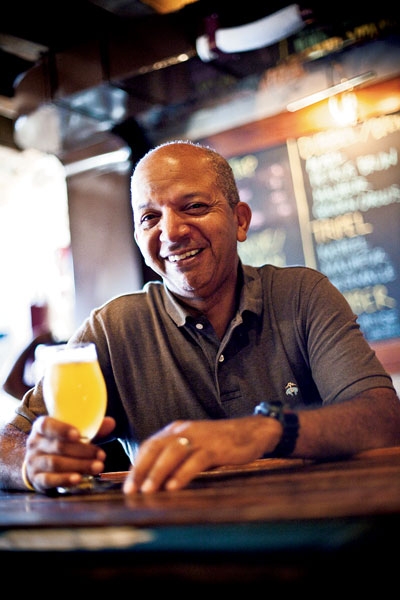 ANTHONY WILLIAMS
Anthony Williams was mayor of the District from 1999 to 2007. He's now director of the state and municipal practice at the law firm Arent Fox. He's also executive director of the government-practice division at the Corporate Executive Board, a consulting and research firm.
Horace and Dickies is a good ol' earthy soul-food place. They didn't get the memo on how to be ritzy—you just come in, get your food, and swing out, but they have great fried fish. It may be artery-clogging, but it's very good.
I always think the Library of Congress is underused in the community. It's one of the world's greatest collections of treasures, right on our doorstep, but people seem to forget it's there.
I like Granville Moore's. The classic thing they do so well there is the moules frites—mussels in broth with French fries—and a good Belgian beer. You can't go wrong with that.
Sidamo Coffee is run by a nice Ethiopian couple. It's a funky neighborhood place, good coffee. And Liberty Tree was set up by a chef who was at Matchbox before. It's a great family restaurant—we love the shrimp and beans and the pigs in blankets.
Frager's is a good neighborhood hardware store with a large selection.

ROBIN GIVHAN
Robin Givhan is the Washington Post's fashion editor. In 2006, she became the first fashion writer to win the Pulitzer Prize for criticism.
I've been in the neighborhood just over a year, so I'm still exploring, but there are a couple of places I've fallen in love with. There's a great Ethiopian restaurant, Ethiopic. You could completely walk past it because it has the most subtle sign known to man, but the food is great and the owners are beyond warm. If you're nervous about how to eat Ethiopian food, they'll give you a demonstration. I always get the vegetarian platter because you get a little bit of everything.
I think that the Hill is really hurting for good ice cream, but I discovered that Toscana Cafe and Catering has a little ice-cream case right by their front door where they sell homemade gelato in 12-ounce containers. It's the best gelato ever—unbelievable. They have flavors like Nutella, chocolate, and coffee—which should be called espresso because the flavor is so intense.
I have a dog, so I love Metro Mutts (508 H St., NE; 202-450-5661). It's locally owned, and they have everything you could ever need for your dog—and your cat, too. It makes me really happy I don't have to haul myself to Petco. They have frozen doggie yogurt, which my dog loves.
I like to run when the weather's good—you can run past the Capitol, the Folger Shakespeare Library, and the Library of Congress. You have that moment when you're running and you suddenly see the Capitol. I always feel so triumphant when I get to the top of the hill, and I do my Rocky pose.
I like to go to the little farmers market at Sixth and H (625 H St., NE; 202-362-8889). It's very basic, an everything-you-need-in-one-place kind of market, but it's really close.
I also enjoy We, the Pizza—they're really generous with the toppings. I had the wild-mushroom-and-truffle pizza recently, and it was pretty damn good.
JASON CHAFFETZ
Congressman Jason Chaffetz represents Utah's 3rd District. A Republican, he tweets regularly about life on the Hill.
I like the shakes at Good Stuff Eatery. They're expensive but worth every dollar. I'll do just about anything for a good shake. I'm still loyal to Five Guys for burgers, though. My staple is the bacon cheeseburger with tomatoes, mayo, and mustard. No lettuce. My favorite is the one down by Nationals Park (1100 New Jersey Ave., SE; 202-863-0570; fiveguys.com).
I love to wake up early and go for a run on the Mall. I start at the Capitol and then run to the Washington Monument and back. It's got to be one of the best runs in America—so beautiful. I recently bought a mountain bike, so I like to bike around the Mall as well. Sometimes I go down to Georgetown or along the path by Reagan Airport to Mount Vernon.
The House is pretty much self-sufficient. At one point in the winter, I found myself having not gone outside for three days. I use the House gym a lot—Rahm Emanuel's usually in there, and it's a pretty popular space. I also do Tony Horton's P90X workout there with my fellow congressmen Paul Ryan and Kevin McCarthy.
When my kids are in town, we try to learn the history of Washington. We go exploring in some of the tunnels in the Capitol, and last time we went to the Museum of Natural History. I'm partial to the Air and Space Museum myself. You can touch the moon there—they have a moon rock. It's great to see the history of aviation, and the museum is so comprehensive.
Matchbox is good. I have to save my pennies to go there, but they have good pizza and I love the sliders.

ELEANOR HOLMES NORTON
Congresswoman Eleanor Holmes Norton is in her tenth term as the District of Columbia's delegate to the House of Representatives.
The nice thing about Capitol Hill is that it's a quintessential residential neighborhood—a real live community, even though it's so close to the Capitol. I like the Park Café, a tiny restaurant tucked behind Lincoln Park. They exhibit artists' work and occasionally have live music. The food is really good. We often go there for family dinners and birthdays.
Anybody you talk to about Capitol Hill will mention Eastern Market. It's a centerpiece of Hill culture, and it defines Capitol Hill as a neighborhood, more than any other single institution or shop or sight. It's our supermarket—I get everything there, from flowers to fish.
Capitol Tailors (2 Eighth St., SE; 202-544-3640) is where I take my dry cleaning. It's a block from where I live. There are two great people who work there: Danny and Christine, who looks and talks exactly like me except she's Korean.
I've been going to Ian's Hair Studio (300 15th St., SE; 202-546-4210) since Donna Brazile took me when I first announced that I would run for Congress 20 years ago. Ian has an approach where he tries to please me but also gives his best advice. Over the years, I've learned to take it.
JARED RAGER
Restaurateur Jared Rager is co-owner of Sonoma on Capitol Hill. He also co-owns Blue Ridge in Glover Park and owns Redwood in Bethesda.
For a quick bite, I'm a big fan of the Wellness Cafe. I like to get smoothies there, but they've got great sandwiches as well. It's probably one of the healthiest places I go to aside from the gym. I work out at Washington Sports Club, just behind Sonoma. It's got everything you need, and there isn't too much of a scene.
I love the flea market at Eastern Market. It's a fun place to bring the kids, and you can find quirky, cool stuff.
As a family, we're big fans of the Folger Theatre. They have great plays, and it's our way of squeezing in a little bit of culture.
Lately, I've been grabbing coffee at Le Pain Quotidien. There's something about their patio—it's in a good breezy corner, and it's great in the summer. Their coffee's really good.
Schneider's of Capitol Hill is my go-to store for alcohol. It's a good place to grab a bottle of wine or something sparkling, and they always have a good selection. When I was younger, I used to hang out at the Tune Inn all the time. That was always my last stop, although I don't do it that much anymore.
This article first appeared in the October 2010 issue of The Washingtonian.