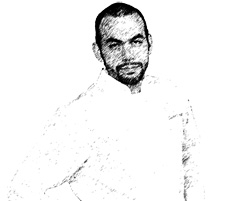 Who: Daniel Giusti, executive chef at 1789.
Age: 26.
Why we chose him: While most chefs his age are pushing out flashy plates, he's been slowly nudging this institution away from meat and potatoes toward appetizers such as headcheese with pickled carrots and jalapeños.
Hometown: His family moved around but settled in Great Falls, where Giusti attended Langley High School.
Also worked at: Clyde's in DC's Penn Quarter; Guy Savoy in Las Vegas.
Favorite product to work with: "We buy a whole 250-to-300-pound pig every week. We have to keep ourselves from putting bacon in every dish."
Favorite local restaurant: "Obelisk. It's not pretentious, and it's solid, clean food."
Most visited Web sites: "I go on OpenTable like 50 times a day. I constantly check the comments from customers."
Favorite breakfast: "Sometimes I eat breakfast food at night. I take bacon from the restaurant and make Belgian waffles with bourbon-barrel-aged maple syrup, tons of Vermont Butter & Cheese brand butter, and Aunt Jemima waffle mix—it's fantastic. Sometimes I have a screwdriver with it."
Follow the Best Bites Bloggers on Twitter at twitter.com/bestbitesblog
More>> Best Bites Blog | Food & Dining | Restaurant Finder