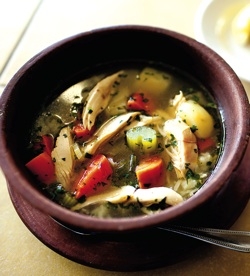 If you didn't know to look for it, you might not find La Brasa (12401 Parklawn Dr., Rockville; 301-468-8850), tucked away on an industrial back street off Rockville Pike. If you did stumble upon it, the name—meaning "embers"—would likely lead you to zero in on the spit-roasted chicken.
It's a worthy bird, but the gem at this friendly cafe is the house-made chicken soup ($6.50) with hunks of carrot and potato and bits of chicken supported by a rich broth that tastes of a long day on the stove.
This article appears in the November 2010 issue of The Washingtonian.
Subscribe to Washingtonian
Follow Washingtonian on Twitter
Follow the Best Bites Bloggers on Twitter at twitter.com/bestbitesblog
More>> Best Bites Blog | Food & Dining | Restaurant Finder