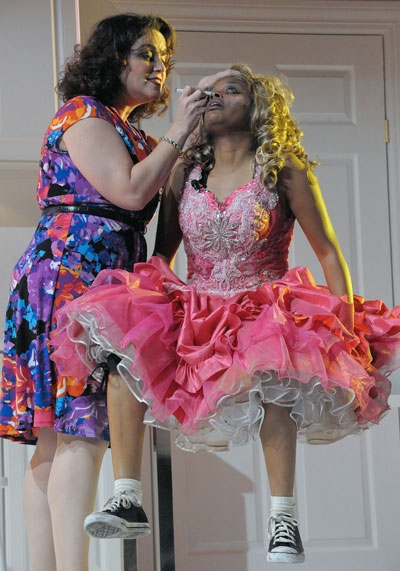 Star rating: ** out of 4
"Without an element of cruelty at the root of every spectacle," French playwright, actor, and director Antonin Artaud wrote in the 1930s, "the theater is not possible. In our present state of degeneration, it is through the skin that metaphysics must be made to re-enter our minds."
In other words, only theater that's a violent assault to our senses can drag us, kicking and screaming, out of complacency. House of Gold, the Sarah Benson-directed play currently showing at Woolly Mammoth, takes this premise literally—so much so that it was a blessed relief to leave the premises, feeling vaguely like I had been beaten for 90 minutes with a large, theater-y stick.
To say that Gregory S. Moss's play aims to be provocative is an understatement. Billed as a "darkly funny inquest on the fate of a certain six-year-old beauty queen," the first time the audience hears the name JonBenét Ramsey is in the opening scene, set in a sterile white kitchen. A "Woman" (Emily Townley) noisily cooks breakfast for a "Man" (Michael Russotto), inexplicably moving a microphone closer to her frying pan so the audience can hear the sausages splutter. "Honey, what's in these sausages?" the man asks, prompting a long pause. "JonBenét Ramsey," the woman replies.
From then on, it becomes clear that nothing is sacred, which is presumably the point. The play proceeds as a sort of surreal reincarnation of JonBenét's life and death, exploring her family, her friends, and the media circus that surrounded the child, dead now for 14 years.
Although she's dead at the beginning of the play (we see her mother placidly drafting a ransom note), JonBenét is grimly reincarnated, first appearing on the top floor of set-and-costume designer David Zinn's house. Zombie-like, she emerges from under a sheet before launching into her pageant talent piece, an out-of-tune rendition of "I Want to Be a Cowboy's Sweetheart." The actress who plays her, Kaaron Briscoe, is black and wears a bouffant blond wig, reminding us of the fakeness of the JonBenét mythology.
JonBenét, ignored or abused by her grotesque caricatures of parents, has two friends, both of whom want to have sex with her. One, Jasper (Randy Blair) is an obese teenager who listens to Richard Pryor albums and thinks he's black. The other, Joseph M. Lonely Jr. (James Flanagan) is a pedophile who tries to entice JonBenét into his van before snatching her into his sordid, pink, Care Bear-covered den.
There are four other characters: three neighborhood bullies dressed all in white who prey on Jasper, and a detective investigating JonBenét's murder (Mitchell Hébert) who becomes as sickly obsessed with the dead girl as everyone else. In one particularly awful scene, he autopsies Jell-O organs from her body.
Everything in this play is designed to make us uncomfortable, whether we're craning our necks to try and see the action at the top of the house or blocking our ears to stop the jarring, screeching sound of sirens and screaming. In each scene, we can vaguely hear background music playing, whether it's a six-year-old singing or just some atonal droning depriving us of comfort for even a second. In a final, particularly surreal, particularly Artaudian scene, the characters on stage fight and throw ketchup at each other like some creepy farce, with the three neighborhood bullies now inexplicably wearing white balaclavas and ice-cream-cone hats.
Most of this is Benson's work. She's the British-born, New York-based director who embraces controversy and brutality and staged the first US production of Sarah Kane's apocalyptic play, Blasted, in 2008 (key scenes feature sexual assault, mutilation, and total despair).
The most unfortunate thing is, the play isn't without merit. The actors, particularly Briscoe, deliver compelling performances and deserve credit for adding glimpses of humor and humanity to the play. And the script has moments of pure poetry: Townley's monologue about her own ugliness in the face of her daughter's beauty is profoundly moving, and even Flanagan's sexual declarations to JonBenét are gorgeously written. The staging is innovative, combining theater with video in a smart take on our TV-engulfed culture.
But the moments of cruelty are so jarring that they detract from the overall message, whatever it is. If the moral of the play is revealing how obscenely we relish grim stories like this one, then we just paid money to be made to feel bad about ourselves. And that's the cheapest, cruellest trick of all.
At Woolly Mammoth through November 28. Tickets ($30 to $65) are available here.
Subscribe to Washingtonian
Follow Washingtonian on Twitter
More>> After Hours Blog | Arts & Events | Happy Hour Finder | Calendar of Events