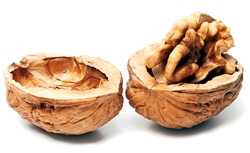 Related >> What's Your Stress Score?
WALNUTS
Penn State scientists have found that a diet rich in walnuts or walnut oil—and thus omega-3 fatty acids—helps the body deal with stress. Subjects who ate nine walnuts daily over six weeks had a lower resting blood pressure and a lower blood-pressure response to stressful situations.
May we suggest: The baked Fuji apple with vanilla crème fraîche and black-walnut frangipane at 2941 in Falls Church or the pan-seared foie gras with banana bread and walnuts at Grapeseed in Bethesda.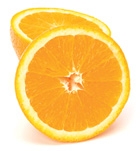 CITRUS
Because they're rich in vitamin C, citrus fruits help prevent the release of the stress hormone cortisol, according to a study in Germany. Those who took 1,000 milligrams of vitamin C daily didn't show mental or physical signs of stress—such as high blood pressure and anxious feelings—when facing a high-stress situation, and they bounced back faster as well. Another study, at the University of California at Berkeley, found that young women who took vitamin C over a decade had lower blood pressure than those who didn't.
May we suggest: Shima aji (striped jackfish) with compressed oranges, spring garlic, and candied ginger at Restaurant Eve in Alexandria or the lemon-mousse cake at Black Market Bistro in Garrett Park.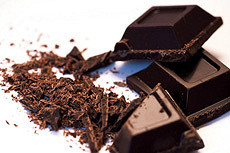 DARK CHOCOLATE
Researchers in Switzerland found that eating a small bar of dark chocolate every day for two weeks reduced cortisol levels as well as catecholamines—known as fight-or-flight hormones—in highly stressed individuals. Other studies have found that dark chocolate can reduce blood pressure and improve mood.
May we suggest: The chocolate tart with house-made pistachio ice cream at BLT Steak or the chocolate dégustation at Citronelle, both in DC.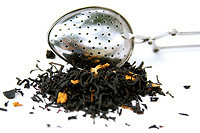 BLACK TEA
Scientists at University College London found that while black tea didn't prevent stress, it did enable drinkers to shake off the symptoms of stress more rapidly. Using blood-pressure, heart-rate, and verbal reports to gauge stress levels, researchers tested subjects 50 minutes after being confronted with a stressful situation. They found that black-tea drinkers saw a 47-percent drop in cortisol, while those who were given fake tea saw a 27-percent drop. Researchers are working to find out why.
May we suggest: The intense, aged Emperor's Elixir Oolong at Blue Duck Tavern in DC.
This article first appeared in the December 2010 issue of The Washingtonian.