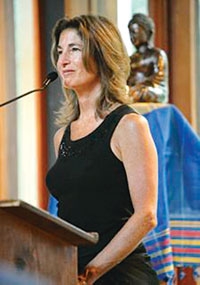 Related >> Where to Meditate in Washington | Ways Beyond Yoga to Relieve Stress | What's Your Stress Score? | How Washingtonians Handle Stress
Tara Brach has been teaching Buddhist meditation for more than 35 years and is founder of the Insight Meditation Community of Washington. Her classes in Bethesda regularly draw several hundred people. We asked her how meditation can help conquer stress:
"I find that when people are stressed, it's because they're afraid of failing. I call it the trance of unworthiness. We feel bad about ourselves, we become convinced we're going to make a mistake, and then we get locked into this mindset of judging ourselves. Meditative strategies are ways of coming back into our bodies in a clear, centered state.
"The first step is to stop. I call this the sacred art of pausing. Just stop your action, then breathe—three or four full breaths—then intentionally relax. Soften your hands. Stop and purposely feel them, and you'll feel yourself coming back into your body. Then soften your face with a very slight smile. It's a trick that works by telling your body to stop the fight-or-flight response.
"The second thing I teach is called mindful presence—being here. Listen to yourself and ask, 'What's happening inside me right now?' Then experience whatever is inside—maybe a feeling of anxiety or loneliness or restlessness or sorrow. It's a way of getting intimate with your inner life. When people are stressed, they lose that contact.
"The third step is kindness. Befriend yourself. Put your hand on your heart and send a message to yourself of kindness, of being worthy. Sometimes people say, 'I accept myself just as I am. I may be peaceful. I may feel safe. I may be happy.' When we're stressed, we're generally fixated on some small goal, like making a traffic light or a meeting, and we forget what really matters."
This article first appeared in the December 2010 issue of The Washingtonian.