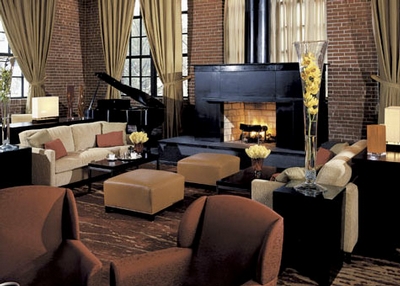 Eighteenth Street Lounge
The scene at this converted turn-of-the-century mansion—decked out with chandeliers, shabby-chic sofas, and three fireplaces—depends on which evening (and room) you choose. Early in the week, you could spend the night snuggling with your date next to the hearth in one of two first-floor rooms; come the weekend, dance with friends by firelight in the upstairs Jazz Bar. Despite the vintage vibe, this isn't a speakeasy. The bartenders mix tasty, club-priced standards in addition to offering high-quality beer and wine, but the focus here is the ambience and ever-changing international lineup of DJs.
Hawk 'n' Dove
This 43-year-old Capitol Hill dive draws a diverse crowd that runs from thirsty college kids to neighborhood regulars who are decades older than the bar. The labyrinth-like space has six rooms, but those in the know fill tables in the two sections that have gas fireplaces: one in the back room and two in the "Marion Barry party room" (the PG kind of party—the former DC mayor rented it out for a 1986 reelection campaign). Bring a laid-back date who'd enjoy a fireside pint of craft beer (only $2.50 on Sunday) or a group of pals who can take advantage of the extensive happy-hour specials and heaps of hot wings.
Ireland's Four Courts
Clarendon is a far cry from Dublin, but Four Courts brings some Emerald Isle charm with its dark, wood-paneled walls, spacious booths, and two gas fireplaces—one in the main dining room and another in a more intimate side room. Homesick expats come for afternoon broadcasts of Premier League soccer and rugby, and Irish musicians often perform. Weekly karaoke and quiz nights and daily happy-hour specials—such as a $5 21-ounce Guinness—from 4 to 8 draw boisterous crowds. No matter what evening you go, you'll stave off cold and boredom.
Murphy's
Drink like an Irishman all winter at this Woodley Park watering hole, which is celebrating its 25th year. For those who like variety, the bar offers more than 40 bottles of whiskey and a selection of Irish beers. Try to score one of the tables around the brick, wood-burning fireplace. The lineup of music Thursday through Saturday features a range of Irish folk musicians and acoustic singers, and every Monday is quiz night. Even when there's no formal entertainment, the people-watching is often good.
Oya
Oya in DC's Penn Quarter is a cool spot, from the white marble facade to the stark white banquettes to the trendy crowd. Warming the room are flickering candles and two long fireplaces, one in the main dining room and the other in the lounge/bar. Order a round of sushi rolls and a glass of bubbly to match the golden glow around you. The restaurant won a Wine Spectator Award of Excellence and has offerings such as a sparkling Virginia Viognier and the effervescent Hula O Maui, flavored with pineapple ($12).
Restaurant Eve
Restaurant Eve's main dining room is an occasion destination, but the separate cozy bar is the kind of spot you can drop in anytime and warm yourself by one of the two fireplaces. Cushioned barstools and leather chairs make comfy perches to try items on Chef Cathal Armstrong's casual menu, like fresh bratwurst with sauerkraut ($12) or deviled eggs ($7). Mixologist Todd Thrasher provides whimsical, fireside-friendly offerings like the "Gimme S'more" cocktail ($13), which has house-made graham cracker liquor and a marshmallow foam that's bruleed to order. The "Veritas" is a Waldorf salad-inspired libation made with apple liqueur, cider, bitters and walnut water.
Ritz-Carlton Georgetown and Lobby Lounge
S'mores and wood-burning fires are typically the stuff of campgrounds, but you can find both at this swank Georgetown address through the holidays. During the week, patrons can sink into plump sofas and armchairs in the lobby's lounge, which has a sleek, modern industrial look (think high ceilings and exposed-brick walls) and a large wood-burning fireplace. Daily from 6:30 to 7, the Ritz "S'more-melier" passes around complimentary renditions of the camp favorite, made with Valrhona chocolate and house-made marshmallows between two slices of French-toast-style baguette. On weekend evenings, guests can try their hands at making s'mores in the courtyard's outdoor fire pit. There's also a list of festive cocktails such as the peppermint-chocolate Frostini and the Sparkling Melange, a blend of pear vodka, elderflower liqueur, and Champagne.
Sonoma
Fire-loving oneophiles seek out Sonoma's upstairs lounge, where they can sample more than 40 wines by the glass ($7 to $20)—three-ounce tastes are also available. The surrounding plush sofas and armchairs are a plum spot to savor a nightcap after dinner in the downstairs dining room. There you'll find shareable dishes such as flatbread pizzas ($12), charcuterie ($8), and domestic cheese ($11). The lounge is open only after 5 and is often booked for private events, so call ahead.
Tabard Inn
The atmosphere at Dupont Circle's Tabard Inn is both buzzy and intimate, making the bar and lounge one of those rare, multi-purpose stops where you can bring a first date or old friend, grab a pre-dinner aperitif or hole up for the night on one of the couches by the marble fireplace. Many of the furnishings in the lounge are antique, but the cocktails crafted by bartender Chantal Tseng are fresh inspirations. Snag a spot next to the hearth and try the house Tabard Cocktail ($10), a Milagro Reposado tequila-based drink with fresh thyme. You can order light fare—such as raw oysters ($2.25) and a charcuterie plate ($10)—as well as the full dinner menu from Tabard's restaurant.