Lobster rolls are starting to seem like the new burgers, showing up everywhere from Coastal Flats to Central Michel Richard. But it's the Red Hook Lobster Pound—a food truck that debuted its buttery lobster rolls and whoopie pies in August—that's rightly captured the most attention. Now comes good news for the more than 10,000 Twitter followers: A second truck is coming in the spring.
Owners Doug Povich and Leland Morris were amazed at the reception the truck got from the get-go, with Washingtonians willing to withstand hour-plus lines, summer scorchers, and cold rain for a $15 sandwich. The owners are even considering a brick-and-mortar storefront like the original in Red Hook, Brooklyn. "I'd say by next year we'll be moving toward our own location," Morris says.
There are no promises that a second truck will lessen the lines, but a new set of wheels will expand Red Hook's reach. Povich and Morris plan to have it licensed in Virginia and Maryland (the first truck roams only in the District now). They also hope a second vehicle will let them rotate in high-demand parking spots more frequently.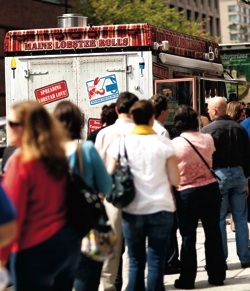 Some may think hawking food on wheels is simple, but a lot of time, effort, and money go into a new truck. Currently, Red Hook II is getting trimmed up in Minnesota. The freight-liner vehicle that Povich and Morris settled on is 22 feet long. District law regulates that mobile vendors can be no longer than 18½ feet, so they're taking off the truck's end. After the rebuilding is finished, the inside has to be stripped and rebuilt to include ground outlets, clean-water tanks, hand sinks, and other accoutrements. And that's only the beginning.
Once the new truck arrives, the Red Hook team begins what Morris calls "a living game of Tetris," trying to fit five people, 140 pounds of lobster, 20 pounds of shrimp, 600 pickles, and necessary items such as napkins into an 80-square-foot space.
While waiting for the new wheels, look for smaller developments at the curb. New England clam chowder hits the menu today for the winter (during which, barring another Snowpocalypse, the truck will stay open). Morris, who's a Culinary Institute of America alum, also hopes to serve weekend specials such as lobster hash with poached eggs. Still, don't expect too many changes from the truck you know and love.
"We want to remain recognized for the things we do well," Morris says. "Just like Five Guys, you come, know what you want, know what you came for, and hopefully 100 percent of the time you're thrilled with it."
Subscribe to Washingtonian
Follow Washingtonian on Twitter
Follow the Best Bites Bloggers on Twitter at twitter.com/bestbitesblog
More>> Best Bites Blog | Food & Dining | Restaurant Finder