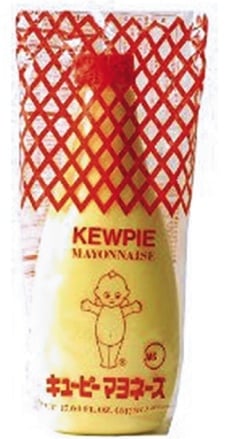 If you've eaten Japanese food in Washington, chances are you've tasted Kewpie mayonnaise. Japan's leading mayo coats morsels of tuna in the spicy roll at downtown DC's Kaz Sushi Bistro. It also makes for creamy potato salad at Kushi in Mount Vernon Square and tops the okonomiyaki (Japanese pizza) at the Source in DC's Penn Quarter.
Kewpie, sold at Asian groceries such as H Mart in Falls Church, has remained a largely secret ingredient in chefs' arsenals. Antonio Burrell, chef at Masa 14, the Latin/Asian fusion spot near DC's Logan Circle, thinks diners are squeamish about seeing the word "mayonnaise," even if they're raving about his wasabi aïoli or barbecue salmon, which is marinated in Kewpie and Korean bean paste.
Another challenge: Japanese-style mayo contains a dab of MSG, the flavor enhancer that still worries some diners years after studies debunked the theory that it causes headaches and dizziness. The MSG lends the mayonnaise the earthiness of umami—the so-called fifth element of taste—and allows the apple and malt vinegars to shine through. Made with egg yolks instead of whole eggs, Kewpie is denser and creamier than American mayos.
"I used to be a die-hard Duke's mayo fan," says Burrell, "but I started using Kewpie a couple years ago, and there is no other mayonnaise anymore—just Kewpie."
This article appears in the December 2010 issue of The Washingtonian.
Subscribe to Washingtonian
Follow Washingtonian on Twitter
Follow the Best Bites Bloggers on Twitter at twitter.com/bestbitesblog
More>> Best Bites Blog | Food & Dining | Restaurant Finder