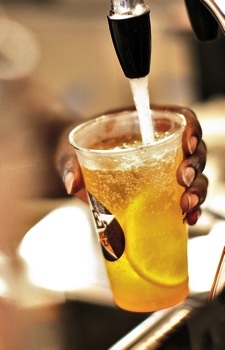 Chefs have upgraded hot dogs, burgers, and pizza, so the next haute-junk-food trend probably was inevitable: Some restaurants are forgoing bottled sodas in favor of making their own. At Logan Circle's Estadio, the citrusy tang of Sprite is reimagined as bitter lemon. In Old Town, the Majestic is offering watermelon-mint and spicy ginger varieties. More-exotic mixes—ginger-yuzu, cucumber-citrus—can be found at the Penn Quarter sushi spot Sei, and the nearby PS 7's makes a seasonally appropriate pumpkin soda.
Inspired by his grandfather, who used to operate a soda fountain, Spike Mendelsohn adds a dose of nostalgia at Capitol Hill's We, the Pizza, where the carbonation for his 12 soft drinks comes from a tap. Using mostly local ingredients, he pours such vintage flavors as sarsaparilla, New York–style egg cream, and a Shirley Temple; his not-too-sweet pineapple gets our top vote.
A sign the trend is in full swing? It's spawning products even more low-end: Café Saint-Ex in DC's Logan Circle has carbonated that old college-freshman favorite, Boone's Farm fruit-flavored wine.
This article appears in the December 2010 issue of The Washingtonian.
Subscribe to Washingtonian
Follow Washingtonian on Twitter
Follow the Best Bites Bloggers on Twitter at twitter.com/bestbitesblog
More>> Best Bites Blog | Food & Dining | Restaurant Finder