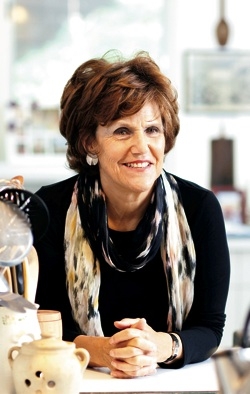 Joan Nathan has been writing about Jewish cooking for so long you'd think there was no new ground to cover. But in researching her new book, Quiches, Kugels, and Couscous: My Search for Jewish Cooking in France, the longtime Washingtonian immersed herself in the kitchens, cafes, and wine cellars of Alsace and Provence and found she had traced Jewish cooking back to its roots.
"That whole area, Provence and Catalonia and Northern Italy, was all together, all one region, before France became France and Spain became Spain," Nathan says. "There was no such thing as Ashkenazi and Sephardic cooking until after the 11th century. There was Jewish cooking."
Nathan uncovers lots of interesting anecdotes and arcana, which animate her collection of excellent recipes. She explains how foie gras was a Jewish invention, explores a link between French anti-Semitism and Jews' abstention from pork, and shows the origins of such Jewish culinary staples as bagels and cream cheese. She also writes about French chef Paul Bocuse, who for years has maintained a fully functioning kosher kitchen—a boon for catering—in a private room at one of his restaurants.
The book was a labor of love for Nathan, who says she wishes she could have kept doing research for a few more years—and not just because of all the great food and wine of those regions.
Among the insights she took away is a greater understanding of Rashi, the 11th-century French rabbi immortalized for penning the first commentaries on the Talmud. Less well known is that he provided medieval Jews with instructions for using dill, advising that a prayer be said over the herb if it was used for seasoning.
Like many Frenchmen of his era, says Nathan, "he was a vintner, and he liked to cook."
This article appears in the November 2010 issue of The Washingtonian.
Subscribe to Washingtonian
Follow Washingtonian on Twitter
Follow the Best Bites Bloggers on Twitter at twitter.com/bestbitesblog
More>> Best Bites Blog | Food & Dining | Restaurant Finder