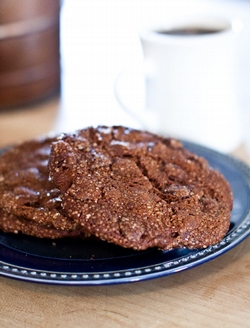 Every holiday season, Northside Social pastry chef Rob Valencia gives an unusual gift to his family and friends: cookie dough.
"Everyone gets so many sweets this time of year," Valencia says. "I put it in Tupperware and they can always freeze it."
His chocolate-gingerbread variety is a favorite with customers—he's kept the Christmasy treat on the Clarendon cafe's menu year-round. Regulars love the crunch of the gingerbread's sugar coating and the softness within as well as the spicy kick from fresh ginger (Valencia says you can cut down the amount if you don't want them too zesty). Another suggested tweak is subbing bits of a favorite chocolate bar for the chips.
If you're one with willpower, the dough can be frozen in an airtight container and then thawed overnight in the fridge before baking. Otherwise, make a batch or two "for Santa."
Chocolate Gingerbread Cookies
Makes about 25
5 cups flour
3 tablespoons cocoa powder
1 tablespoon finely ground ginger
1 tablespoon cinnamon
1 teaspoon nutmeg
1 teaspoon ground clove
13 ounces butter at room temperature
3 tablespoons grated fresh ginger
11⁄3 cups dark brown sugar
11⁄3 cups molasses
1 tablespoon baking soda
2 tablespoons boiling water
12 ounces dark-chocolate chips
Raw sugar—enough to roll the cookies in, about two cups
Preheat the oven to 325 degrees.
In a large bowl, sift together the flour, cocoa powder, ground ginger, cinnamon, nutmeg, and clove.
Place the butter, fresh ginger, brown sugar, and molasses in the bowl of a stand mixer. Beat with the paddle attachment until smooth and fluffy, about 3 minutes.
Dissolve the baking soda in the boiling water. Add it to the butter mixture and mix again until ingredients are incorporated, about 30 seconds.
Add the dry ingredients to the butter mixture and mix until partially incorporated. Add the dark-chocolate chips and mix until a dough forms.
Place the raw sugar in a bowl. Scoop the dough into three-ounce balls (about the size of a small lemon) and roll in the raw sugar. Place on an ungreased baking sheet. Slightly flatten each ball of dough.
Bake for 10 minutes or until firm but soft in the center.
Subscribe to Washingtonian
Follow Washingtonian on Twitter
Follow the Best Bites Bloggers on Twitter at twitter.com/bestbitesblog
More>> Best Bites Blog | Food & Dining | Restaurant Finder