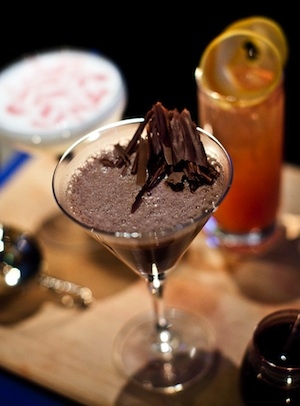 Dark & Skinny Cocktail
1½ ounces Van Gogh Double Espresso Vodka
1 tablespoon skinny chocolate mix (recipe follows)
3 ounces skim milk (or soy, if preferred)
Add all the ingredients to a shaker filled ¾ of the way with ice. Shake hard until frothy, and then double strain into a cocktail or martini glass. Garnish with shaved bitter cocoa. Enjoy!
Skinny Chocolate Mix
1 cup dark-cocoa powder (not hot chocolate mix)
1 cup Splenda, or other brand of sucralose powder
1 teaspoon cayenne pepper (optional)
1 teaspoon cinnamon
¾ cup boiling water
In a medium bowl, mix together the dry ingredients. Slowly whisk in the water, whisking until it becomes a smooth syrup. Pour into a container and allow to cool in refrigerator before using.