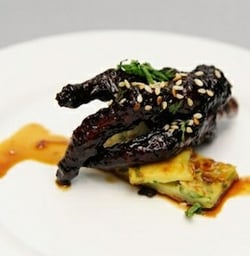 This week on Top Chef: All Stars, the chefs took a trip to Manhattan's Chinatown to prepare dim sum for a dining room of hungry customers, and they ended up serving their snacks at a snail's pace. Casey Thompson took a huge risk with her dish of braised chicken feet with scallion pancakes. Alas, saddled with front-of-the-house duties, she was unable to supervise the execution and plating of her dish, and her attempt at something novel fell flat. We spoke to her about bold choices, her love of butchery, and the moment she knew she was going home.
Do you agree with the judges' decision? Weigh in on our poll at the bottom of the interview.

What made you decide to make chicken feet? Had you cooked with them before?
I use them a lot in my food because they're really high in cartilage and create a wonderful flavor in sauces. But this was the first time I'd ever made chicken feet as an authentic Chinese dish. I really wanted to do a dish that pushed the envelope a little bit. I really felt like I could pull it off. In the end, I hope I'm teaching people about chicken feet. I hope people will try them when they're in New York's Chinatown, or San Francisco or Hong Kong. I've had them and they're delicious.
Spike said last week that you wanted to go home. Had you lost your desire to compete?
I think Spike was referring to my attitude—if I do get sent home, I won't be upset. Going into this [competition], from the get go, our mindset was different for each one of us. We all have restaurants and/or successful businesses. We already knew each other, so people were a lot nicer to each other. I think us already being friends, already knowing the game, and how to play it, made it a tough show even for Bravo to pull off. You also found yourself more relaxed. You're playing a lot of mind games with yourself.
Do you regret working the front of the house and relinquishing the preparation of your dish to another chef?
I thought it was under control. It was about dropping [the feet] into fryer, taking them out of fryer, and tossing them into a wok with sauce. Clearly it didn't work out that way, but it was set out for success. What ultimately ended up happening is that they were not fried appropriately to make them tender and crispy. Meanwhile, the sauce was being over-reduced. So from fryer to sauce to plate, the whole thing was just a disaster. Was it the wrong choice for me to also volunteer being upstairs? Probably. I wouldn't volunteer again. I felt like there were a lot of hands on my dish. No one wanted to do front of house because then they wouldn't have control over their dish.
Why did everyone think Jamie would be the one to go home?
We all were very surprised. I can say that we felt, even with all the comments, that Jamie having made two dishes made you feel better because two bad dishes is definitely worse than one. I don't think anyone really thought it was going to be me. [The judges] liked the sauce, they thought it was a gutsy move with the chicken feet. But when Tom said "inedible," that's when I knew it was me. It was like someone had slapped me in the face. He just said the word "inedible," and there's nothing I can do to get me out from under that.
Were you serious about your love of butchery?
It's something I'm passionate about. I'm studying it and learning about the almost-dying art of butchery. I have a future goal of creating a butcher shop, old-school style, where people can come and get to know their butcher, know the farms, where their meat is coming from. I'd feature all-natural, heritage breeds.

Who are you rooting for this season?
I'm behind Dale, who's doing a great job. He's winning a lot of challenges. I think his head's in the game. I think he deserves it. He's young, but he's on a mission and very talented. Antonia is also doing a great job. She has a daughter, and she's just kind of like "I'm gonna win this for [her]." Angelo is doing this for his son. Dale wants to get engaged. Everyone who's super-driven has a goal and seems to be doing very, very well.
Subscribe to Washingtonian
Follow Washingtonian on Twitter
Follow the Best Bites Bloggers on Twitter at twitter.com/bestbitesblog
More>> Best Bites Blog | Food & Dining | Restaurant Finder