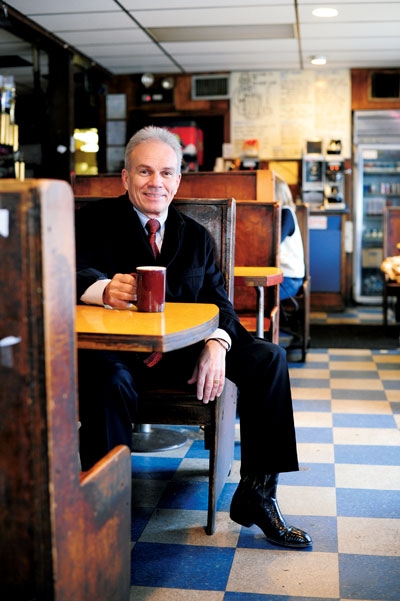 TERRANCE JONES
President of the Wolf Trap Foundation for the Performing Arts in Vienna
Early morning on the weekends, I bike the Washington & Old Dominion Trail from my house in Reston all the way to Vienna to have breakfast at the Vienna Inn (120 Maple Ave. E., Vienna; 703-938-9548). For lunch, I like Natta Thai (153 Glyndon St., Vienna; 703-242-4323). I love kale, and just today I had stir-fried chicken with chili sauce and the best crispy kale I've ever had.
I call Bazin's on Church (111 Church St., NW, Vienna; 703-255-7212) my Cheers. It's got a great bar, and everybody knows your name.
I'm a photographer, so I do a lot of framing. Bob Cramer at Creative Framing (332 Maple Ave. W., Vienna; 703-938-1281) takes such care and is incredibly patient with customers. He has a great understanding of picking the right frame for any piece of art.
For wine, I always go to Vienna Vintner (233 Maple Ave. E., Vienna; 703-242-9463). Victor Mendes is the proprietor. Talk about willingness to take time—he knows his wines. I always send people who are planning a picnic at Wolf Trap there. He knows how to take care of them.
LYNDA ERKILETIAN
Founder of T.H.E. Artist Agency, a modeling agency in Georgetown; Cast member on Bravo's "The Real Housewives of D.C."
I raised my children in McLean and just moved back here last year. We used to live in Georgetown, and I'd try different places there, but I kept coming back here. It's a beautiful place to take long walks.
When I was in Georgetown, I found myself sending my nanny back to McLean to use McLean Cleaners (1407 Chain Bridge Rd.; 703-356-5321). I've used it for my day-to-day clothing for 20 years. And believe me, I've tried plenty of dry cleaners.
I have a chubby little pug named Ichiban with a ton of allergies, and pugs are high-maintenance when it comes to health care. I take him to Old Dominion Animal Health Center (6719 Lowell Ave., McLean; 703-356-5582). They're really on top of it, sending me letters and letting me know what's due for my animals. I also have a beautiful, feisty Siamese cat named Little Bon Bon, and she has her grooming there every three weeks. They also have a store where I can get everything from beds to collars to organic treats.
I have four children, and McLean Immediate Care (1340 Old Chain Bridge Rd., McLean; 703-893-2273) is great. It's amazing to be able to drive over and have them do a rapid test—when a child is sick, you don't want to have to drive all over. It has a great staff.
In terms of food, if kids are coming back from football and I need to put something together really quickly, Balducci's (6655 Old Dominion Dr., McLean; 703-448-3828) is the place I'll go. But my guilty pleasure is the crispy beef from Wok & Roll (1371 Beverly Rd., McLean; 703-556-8811). It's so delicious, and they deliver.
Next >> Weekly Standard Editor Bill Kriston and conservative pundit Pat Buchanan
BILL KRISTOL
cofounder and editor of the Weekly Standard. He frequently appears on Fox News Sunday and the Fox News Channel.
I love McLean Family Restaurant (1321 Chain Bridge Rd., McLean; 703-356-9883), or MFR, as it's known to locals. It's a classic old-fashioned diner with breakfast till 3 pm. I've had breakfast there with Newt Gingrich. It's a funny place because you've got families there with kids making a mess, but it's also a CIA hangout because it's close to Langley. It's nice to grab breakfast there so you can miss traffic and get in at 9:15. I spend more time in MFR than any other place in McLean.
Dominion Barber Shop (6665-A Old Dominion Dr., McLean; 703-917-9025) has been fantastically successful, and it's always busy. It's got the feel of an old-fashioned barbershop with very nice people and $18 haircuts. I imagine it would look the same if it existed 40 years ago.
PAT BUCHANAN
conservative pundit and author as well as a regular contributor to MSNBC
My wife and I go to Pulcinella (6852 Old Dominion Dr., McLean; 703-893-7777) about two times a month for terrific Italian food.
I buy and trade old books at the Old Book Company of McLean (6829 Redmond Dr., McLean; 703-734-0858). I wrote a book called Churchill, Hitler, and the Unnecessary War, and to prepare I went there for books on British diplomacy. Recently they found a great, big, complex old atlas for me. The store is next door to Goellers (6825-A Redmond Dr., McLean; 703-356-4449), where I get my office supplies like editing pencils and sharpeners and all those things.
I take my 13-year-old Cadillac to get washed at Embassy Autowash (6814 Old Dominion Dr., McLean; 703-442-4600). And I'll stop by McLean Hardware (1445 Chain Bridge Rd., McLean; 703-356-5496) to get implements for yard work, which actually isn't all that often.
This article first appeared in the January 2011 issue of The Washingtonian.