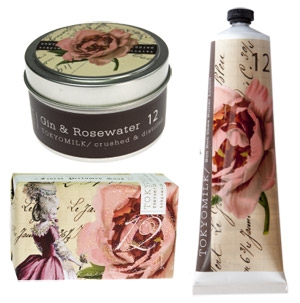 Related >> Gifts for Him | Where to Buy Flowers and Chocolates | The Complete Valentine's Day Guide
ONE TO THREE MONTHS
Tokyo Milk
Bath products can seem like a cop-out, but pair them with a few promises of personal massages and we guarantee there won't be any complaints. Tokyo Milk is a good place to start—the brand offers gorgeous bottles of green-tea- and rosewater-infused Bbubble baths and lotions.
$18 to $58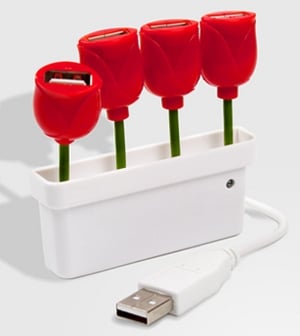 USB Tulip Hub
A geekette riff on the standard bouquet she'll keep long after every single change in your Facebook relationship status.
$22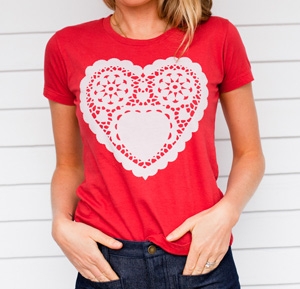 Emersonmade Paper Valentine T-Shirt
Super-soft, cheery cherry red, and just casual enough to wear on days beyond February 14. We've long loved Emersonmade for its adorable flower pins, but this tee has officially turned us on to the brand's clothing. Grab it in a size up and let her wear it for a casual post-Valentine's brunch.
$38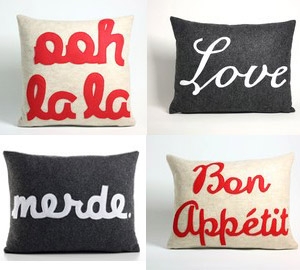 Alexandra Ferguson Pillows
By now (we hope) you know her place well enough to remember the decor. Let one of Alexandra Ferguson's felt throw pillows say the lovey-dovey—or chatty French—phrase she's grown so fond of when you're not around.
$89 to $119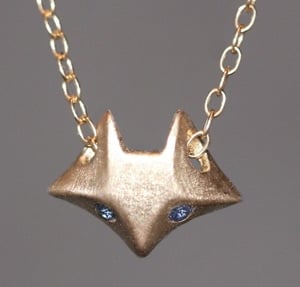 SIX MONTHS
Michelle Chang Fox Necklace
Gents, no matter what your younger sister says, steer clear of the Tiffany heart at the half-year mark. Popular though it may be among the 17-year-old set, it has no place in the fun, thoughtful, "adult" relationship you're finally committed to. Instead, let her know she still gets you hot—and that you can still make her laugh—with Michelle Chang's Fox necklace.
$98 for sterling silver, $298 for 14K gold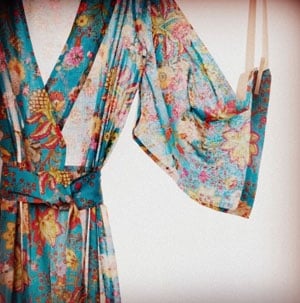 Plum Pretty Sugar Robe
The next step on the chain of commitment? Showing her you're serious about regular sleepovers. Sexy as she might look lolling about in your old concert tees, the girl will seriously appreciate a permanent piece of her own at your apartment. Start simple with this sweet robe—casual enough for her to feel comfy in but short enough to still flash some leg.
$65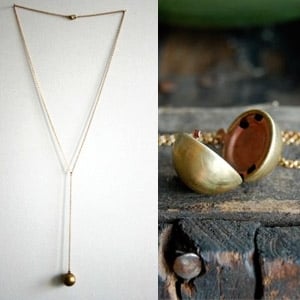 ONE YEAR PLUS
Laura Lombardi Round Locket
So. Putting your own picture in an heirloom-inspired locket might just be the most narcissistic idea we can think of. Instead, fill it with a tiny picture of a loving memory you share—such as vacation scenery or the place of your first date. If your relationship ever hits a rough patch, she'll be immediately transported to the golden days every time she opens it.
$40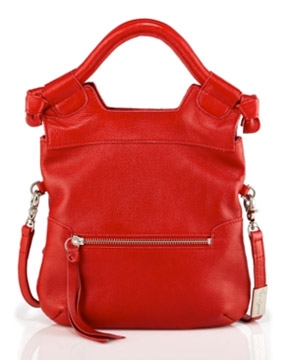 Foley & Corinna Disco City Bag
The perfect cross-body going-out bag in electric Valentine-ready red. Sure, she may jump up from the table and immediately head out with the gals, but at least she'll look great doing it.
$198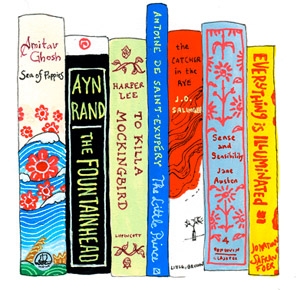 Ideal Bookshelf Print
You met in a bookstore, bonded over Dave Eggers, and argued for days over David Foster Wallace. Years later, hardcovers are still what draw you together. This Valentine's Day, send Jane Mount photos of up to seven books you're both head over heels for, and she'll send your sweetheart a custom painting of the spines.
$150 if ordered before January 31