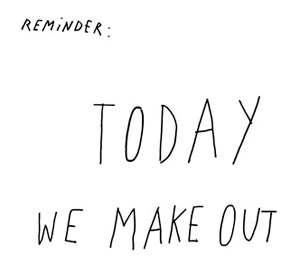 ONE TO THREE MONTHS
Kate Spade E-Card
C'mon, who wouldn't want to find this in his in-box? Kate Spade's Behind the Curtain project offers dozens of adorable e-cards, but this make-out reminder is definitely the most boy-friendly.
Free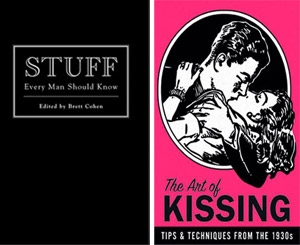 Stuff Every Man Should Know / The Art of Kissing
Graduation doesn't guarantee he left his frat-boy ways on Greek Row. Wish your new crush would grow up already? Send a subtle hint with Brett Cohen's Stuff Every Man Should Know, which is chock-full of manly tidbits. Bonus for you: The "Love and Relationships" chapter includes a massage section.
$9.95 at Tabletop in Dupont Circle, 202-387-7117
If he's well trained on the lovey-dovey stuff but could use some help with his, ahem, technique, The Art of Kissing offers advice from a time long before the words "hookup culture" completely eroded the art of a slow romance.
$8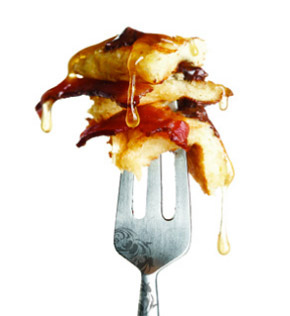 Mo's Bacon Chocolate Chip Pancake Mix
After he unwraps this over dinner, bat your eyelashes a bit and let him know that this decadent breakfast will be served to him—in bed—tomorrow morning. Then watch how fast he signals for the check. (PS—This bacon chocolate peanut brittle looks might tasty, too.)
$12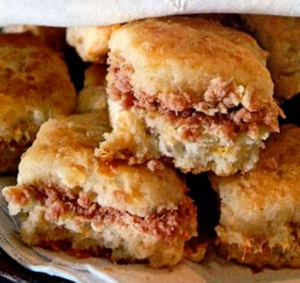 SIX MONTHS
Callie's Charleston Biscuit of the Month Club
We know, we know—"of the month" clubs are typically reserved for estranged uncles and coworker acquaintances. But any Southern transplant worth his weight in grits will welcome a monthly helping of Callie's cheesy, carbo-loaded biscuits like a toddler on Christmas. Especially because they come in flavors like cheese and chive, country ham, and buttermilk.
$197.55 for three months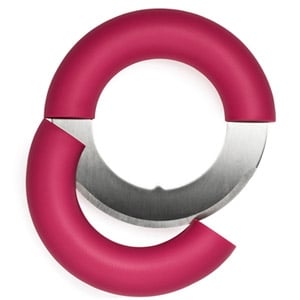 Normann Copenhagen Chop Round Knife
Encourage his culinary prowess—and score some good meals in the process—by making cooking as fun as possible. With a bright rubber handle and razor-sharp blade, this round knife will be an endless source of entertainment in the relatively excitement-free zone of herb chopping.
$48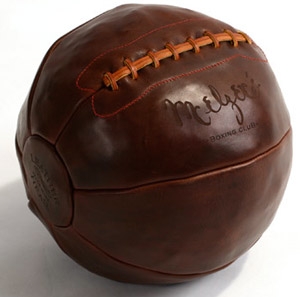 Leather Head Medicine Ball
A bit excessive, we agree, but the leatherwork on this baby is truly a thing of beauty. And who says working out can't be a design-conscious endeavor? Sit-ups in front of the TV have never looked better.
$350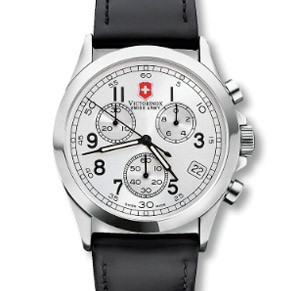 A YEAR AND BEYOND
Victorinox Infantry Chrono Watch
Washingtonian photographer Chris Leaman says this Swiss Army watch is the best gift he's ever received. Granted, that was for his five-year wedding anniversary, but long-established couples shouldn't avoid the timepiece route. An impeccable marker of good taste he'll come to count on every day? Why, that sounds a lot like you.
$450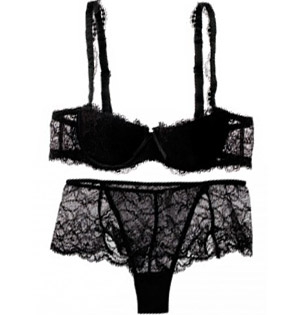 Chantelle Chantilly Lingerie
Face it, honey—last year's racy black teddy wasn't exactly a present for you. Beat him to the punch this Valentine's Day—while treating yourself—with a Chantelle bra-and-panty set.
$28 for boyshort, $52.50 for bra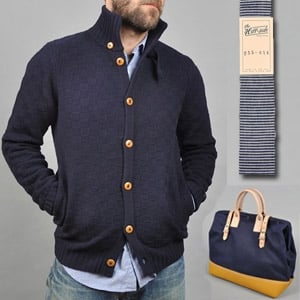 Hickoree's Hard Goods
There are simply too many goodies to pick from at Brooklyn-based outfitter. Grab a Heritage Leather Co. tote ($95), fill it with travel gear such as this cozy button-up cardigan ($315), Hill-side skinny tie ($83), and plenty of Field Notes ($9.95), then whisk him off to the mountains somewhere. Or, you know, back to the Williamsburg he clearly misses so much.