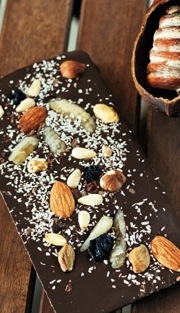 Fans of Dolcezza spill onto the walkway while waiting for the ultra-creamy Argentinean gelato and sorbetto in flavors such as blood orange, quince, mango-Champagne, and Campari-grapefruit. Don't overlook the mellow Toscano espresso and guilty-pleasure churros.
Another Georgetown import, Georgetown Cupcake, also has queues out the door. Aficionados come for nicely turned-out cupcakes in both classic and creative combinations. We like the salted caramel, chocolate ganache, and lemon blossom.
Handmade French chocolates and pastel macarons gleam like jewels at Cacao. Favorites include lavender macarons, chocolate truffles, chocolate éclairs, and mendiants, dark-chocolate bars embedded with dried fruit and nuts.
A few steps away, Fancy Cakes by Leslie is home to a near-perfect chocolate-chip cookie—crisp around the edges, chewy at the center—and a lavish decorate-your-own-cupcake bar. Jennifer Lopez and Marc Anthony celebrated his 41st birthday with a gold-swathed cake from the shop.
On the north end of downtown, Just Cakes woos with offbeat sweets such as banana bars with cream-cheese frosting and cranberry-oatmeal cookies along with classic cakes, pies, and cupcakes almost too pretty to eat.
Subscribe to Washingtonian
Follow Washingtonian on Twitter
Follow the Best Bites Bloggers on Twitter at twitter.com/bestbitesblog
More>> Best Bites Blog | Food & Dining | Restaurant Finder