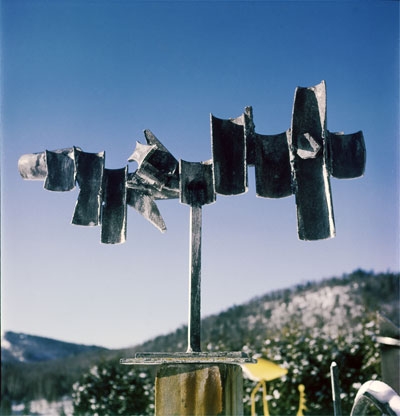 Nineteen-seventy was a troublesome year for Philip Guston. An exhibition of his work at New York City's Marlborough Gallery had bombed, the art establishment not yet ready for his foray into representational painting. The artist left New York and went to Rome, where he produced a series of paintings inspired by his surroundings as well as by his own wounded feelings.
Forty of these paintings are on display at the Phillips Collection in an exhibition titled "Philip Guston, Roma." In an adjacent gallery, the Phillips is concurrently running an exhibition dedicated to the modernist American sculptor David Smith. It's hard to think of two contemporary artists whose work is so different: Guston's Rome canvases are done in gaudy pinks and purples; Smith's sculptures and paintings tend toward jagged monochrome figures. But it's fascinating to see the two exhibitions together. Both artists focus on shape and form, but Guston embraces a simplistic, almost cartoonish style in his studies on Rome, while Smith adds texture and complexity to make two-dimensional images come alive and to make three-dimensional images seem flat.
Beyond the first three drawings at the beginning of the Guston exhibit, it's hard to look at the works and immediately connect them with Rome. There are no explicit landscapes or skylines, and not a Colosseum or Basilica in sight. Instead, Guston takes elements—topiary, a wall, a sculpture— and draws them as simple shapes, vibrant against a pink or white background. It's reminiscent of nothing so much as the Monty Python animation sequences by Terry Gilliam: Out of context, items such as a disembodied foot or a single tree appear surreal and distorted, enclosed in a bizarre fantasy landscape. The sunset tones are inspired by the summer light of the city, but the candy colors give a rosy hue to images that might otherwise seem threatening, or obscure.
David Smith is primarily known for his sculptures, which have appeared in virtually every major museum from the Guggenheim to the Tate Modern. "David Smith Invents," the first local exhibition of the artist's work in 25 years, focuses as much as his drawings, paintings, photographs, and relief works as on his welded structures, and it illuminates how deftly Smith intermingled genres. His spray-painted canvases highlight negative space, leaving central shapes unpainted; as a result, they seem to jump out of the wall. Photographs of his sculptures frame them against water or snow, making them seem to dance and come alive. Smith painted directly onto "Black Concaves," a 1960 steel sculpture, while other works are etched and given texture, almost as if two independent works coexist in one. "I belong with the painters," Smith often said, but this exhibition shows how well he succeeded in blurring the distinction among different mediums.
"Philip Guston, Roma" and "David Smith Invents" are at the Phillips Collection from February 12 through May 15; tickets are $12. More information available at the Phillips Collection's Web site.
Subscribe to Washingtonian
Follow Washingtonian on Twitter
More>> After Hours Blog | Arts & Events | Happy Hour Finder | Calendar of Events