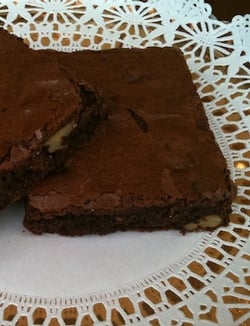 It's tempting to buy brownie mix for a quick Valentine's Day treat, but Meghan Blair's from-scratch version is nearly as easy and far more flavorful. Her Cleveland Park dessert shop, Something Sweet, offers plenty of nostalgic baked goods—fluffernutter cupcakes, chocolate-chip cookies—that are as satisfying as they were when you were a kid. The brownies fit the same bill: a simple, fudgy indulgence that's kicked up with a combination of semisweet and unsweetened chocolate and a few tablespoons of instant coffee.
Blair, who started making brownies in high school, says that home cooks can stick with the kind of ingredients she first used: Hershey's chocolate is as acceptable as Valrhona, and you can buy instant Folger's coffee instead of splurging on an artisanal brand. Her only advice is to let the chocolate cool before adding it to the eggs, so you don't cook them. For an extra-festive touch, stick red and pink chocolate M&Ms to the top of the brownies with a bit of icing once they've cooled.
Have a recipe you'd like sniffed out? E-mail recipesleuth@washingtonian.com.
Something Sweet's Brownies
Makes about 20 brownies
6 ounces semisweet chocolate, roughly chopped
8 ounces unsweetened chocolate, roughly chopped
21 tablespoons plus 1 teaspoon (2 8-tablespoon sticks of butter plus 5 tablespoons and 1 teaspoon) butter, cut into pieces
3½ cups sugar
4 teaspoons vanilla extract
6 eggs
2 tablespoons instant-coffee granules
2 cups flour
1 teaspoon salt
Optional: 2½ cups walnuts, whole or chopped
Preheat the oven to 350 degrees. Grease a 9-by-13-inch baking pan with nonstick baking spray.
Combine both chocolates and the butter in a medium-size bowl and heat on high in the microwave for 30 seconds. Take the mixture out, stir with a rubber spatula, and repeat heating in 30-second increments until the chocolate and butter have melted, about 2 minutes total. Set aside to cool.
Place the sugar, vanilla extract, eggs, and coffee granules in a large bowl, and mix with a large whisk until the ingredients are blended.
When the chocolate mixture has cooled (it can be slightly warm, but not hot, to the touch), slowly pour it into the bowl with the eggs while constantly whisking until the chocolate is incorporated. If using walnuts, stir them into the mixture.
Pour the brownie mixture evenly into the greased pan. Bake it for 17 minutes, and then rotate the pan and bake for another 17 minutes. Set aside to cool in the pan.
Subscribe to Washingtonian
Follow Washingtonian on Twitter
Follow the Best Bites Bloggers on Twitter at twitter.com/bestbitesblog
More>> Best Bites Blog | Food & Dining | Restaurant Finder