Last night's episode of Top Chef: All Stars included a pretty random Quickfire Challenge: cook an unusual fondue, and the contestants were each other's judges. A bit of a snore, really. They went on to an equally arbitrary—but far more entertaining—Elimination Challenge: catering Jimmy Fallon's birthday party. The chefs went on the comedian's late-night show for a cellphone shootout, snapping pictures of Fallon's favorite foods, which include Philly cheesesteaks, chicken pot pie, and pulled-pork sandwiches. The chef who was sent packing talked to us about Anthony Bourdain, chefs' fashion (hint: the phrase "camel toe" was used), and the real reason chefs sign up for the show.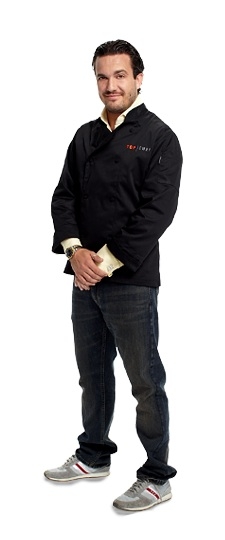 Fabio, whose Italian accent is as strong as the "salt lick" of a cheesesteak that Dale produced, got stuck with the quintessential American dish: a hamburger with fries, or as he pronounced it, a "boorgoor." In our conversation, he started with the caveat "I'm going to butcher the name of your favorite dish again and again."
When you found out you had to cook a burger, it seemed like it'd be a piece of cake, so to speak.
That's what I thought, too. I guess it wasn't. The reality is that the burger I made, I think it tasted delicious. But it's the head judges' opinion. It doesn't matter what you think. It's not a big deal. I wasn't crying.
Have you ever made a hamburger before?
I had never made a burger before. No need for it. Now I'm learning. I went to Richard Blais, and I said, "how do you make your burger?" I made what he told me to do. It doesn't matter. A burger is a burger.
You've been popular with the Top Chef fans, and Bravo has brought you back for other shows. What that's like to be part of the Top Chef family?
These people have done so much for me. It's good exposure, and at the end of the day, that's what everyone is looking for. They say they're there for the $200,000, but the reality is that what we're looking for as a chef is exposure. It's the number one reason everyone does this. We work in the people business, and exposure is everything we need. If you're a blogger and no one reads your blog, you're lost. Even Colicchio needs exposure. Why do you think he judges a bunch of crazy pirates making food on their worst behavior? It's about exposure, that's all it is.
Mike Isabella made a comment about Richard Blais helping everyone out and how he didn't know if he'd do the same thing. What do you think of that comment?
You will do anything to win this competition. It's a competition, you'll see the best and worst of people. Personally, I think Angelo wears his pants a little too tight for my taste. I think he has a camel toe. But he's very fashionable. [Editor's note: Yes, Fabio's transition from the competition to Angelo's pants was as fractured as it appears here.]
What was your favorite challenge?
Besides the restaurant wars—which is not even a challenge when I'm around—I liked the dim-sum challenge. Welcome to the land of opportunity, dim-sum style.
You've been talking a lot about Richard, Dale, Mike, and Angelo. Do you not think as highly of the women?
No, I don't think about them for the same reason I didn't win: Dale, Angelo, Richard, Mike Isabella are the most well-rounded chefs. This is about [being] top chef and if you can pull it off in 30 different situations. I don't think [the women] have the skill to be 100 percent knowledgeable about everything. Don't get me wrong. I have respect for the women, but they are like me, they are one-sided chefs. Carla does comfort food. Antonia does American and some French food. Tiffany does soul food. I am Italian. It is my limitation. It's a competition. It's not like the nicest person is going to win.
You went back and forth with Anthony Bourdain. What's your opinion of him now?
Please put this in capital letters: I LOVE ANTHONY BOURDAIN. I love the guy.
Subscribe to Washingtonian
Follow Washingtonian on Twitter
Follow the Best Bites Bloggers on Twitter at twitter.com/bestbitesblog
More>> Best Bites Blog | Food & Dining | Restaurant Finder