Last night's episode of Top Chef: All Stars was just downright weird. The Quickfire Challenge featured the toughest of critics, a trio of Muppets, including Cookie Monster and Elmo. Maybe because a bunch of the contestants have kids? Could Sesame Street have paid to get itself on there? Can't you only get on Top Chef these days if you pay a boat load of money? The better question is how much Target paid to sponsor the Elimination Challenge—the chefs had to cook for 100 people at a super Target in the middle of the night, and they could use only what they found in the store, including peelers, knives, and fresh produce. Did you know Target has fresh produce? And meat! And fish! So there was that sponsorship, plus a massive $25,000 for the winner. It was as much a culinary challenge as a fitness test, as the chefs huffed and puffed their way around the store, pushing carts filled to the brim with tools, folding tables, and induction burners.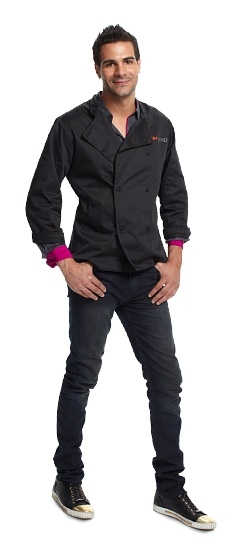 It's often one of two things that sends chefs packing on Top Chef: crappy dessert or over-salting. We knew it was doomsday for Angelo when he asked his bromance partner, Mike Isabella, if he needed to season his baked-potato soup more. First Isabella said it needed salt, then he said it was too salty. Despite Tiffany's jambalaya made with packaged Creole spices and Carla's thin, flavorless soup, Angelo's salt lick sent him home. He talked to us about his Zen-like state of mind, his strategy at Target, and who his favorite remaining chefs are in the competition. Oh, and those tight pants.
You and Mike forged a nice friendship. We know that happens a lot on the show. His recommendation was to add more seasoning, and that led to your downfall. Do you have any thoughts in hindsight?
Mike is an awesome guy, a great chef, a great friend. As I tasted Mike's dish five to ten times, he tasted mine. At the end of the day, I put out the dish, that's my responsibility, my inspiration. As I said, I tasted his dish, he tasted my dish. I'm wise enough to make my own decisions.
A lot of the male chefs had less-than-complimentary words about the female competitors. What are your views on the remaining ladies—Antonia, Carla, and Tiffany?
I've never once [understood] the judges' decision, positive or negative. They're much older than I am, more experienced than I am. They love food the way I love food. If Carla, Tiffany, and Antonia are still in the game, they should still be in the game. Certain competitions, like the cookie challenge, are not necessarily my strength, but that plays to some people's advantage. The three girls, they deserve to be there as much as the other guys.
Last night it seemed like everybody rushed into the idea of making soup. Why did you grativate toward that?
I think my stragety was this: There were 2 hours of cook time, and we have to basically set up our own kitchen. I don't want to sacrfiice flavor. I've never been to a super Target, I didn't know what to expect. [So I thought of] dishes that can come together relatively quick. I'm not going to expect to see salmon or filet mignon or caviar. I was trying to put myself within what I would see in a Target.
In the exit interview, you said you cooked something like 40 dishes in back-to-back seasons. How burned out were you in that exit interview?
I'm trying to do the math. It's closer to 70 or 80 dishes I've cooked in total. What's crazy is that, I always say this to people: Top Chef All Stars broke me in the most amazing way. It pushed me to my limits, and it kept on pushing me. [The show] helps me to this day how I interact in situations, how I approach situations. At that point in time, I was told that I had to pack my knives—it was a sense of accomplishment. I got to compete with some amazing chefs, and to be in that environment. What more could I ask for?
You got to the finals in Season 7, then got sick. You had momentum early on this season and performed at a high level. Were you disappointed at all that you lost?
I never questioned it. I believe things happen for a reason, and I don't question that. I never look into the future. [I think about] what am I going to give in that day. I gave it my all, I cooked with passion and sincerity. That was the bottom line.
You seemed more mellow and less cocky this time around. You seemed more relaxed. Was it because you had done it before or something that changed in you personally?
I think i was misunderstood the first season [I was on the show]. Cooking on All Stars, there were great chefs there. They were the elite of the elite. I felt I formed more of a kinship with everyone. We were all there because we loved cooking. That is the reason I've been put on this earth and nothing else. To cook alongside with people in the same mindset—that made me more comfortable and gave me a sense of being more in my place.
Which chefs have the best chances going forward?
My personal favorites: I have the highest respect as a culinarian, as a person, as a conceptualizer, as an innovator for Richard Blais. I've never cooked with anyone on his level. He drove me, he pushed me. From a friendship level, Mike Isabella. He's a good, good friend, he knows how to lighten the mood, we get each other.
Last week, Fabio made a comment about your pants being too tight. Did he harrass you at all on the set?
I'm going to tell you the truth: Those were actually Fabio's pants.
Subscribe to Washingtonian
Follow Washingtonian on Twitter
Follow the Best Bites Bloggers on Twitter at twitter.com/bestbitesblog
More>> Best Bites Blog | Food & Dining | Restaurant Finder