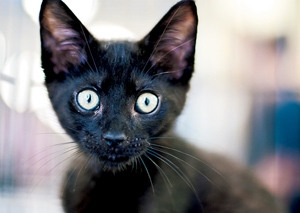 Bobbi Brenner often has a phone on each ear. As a rescue coordinator for the Montgomery County Humane Society in Rockville, she's responsible for getting animals out of the shelter before their time runs out. There are often twice as many cats as dogs. "Cats are a major problem right now—we had a kitten season that never ended," says Brenner. "We had them in portable cages in the hallway."
Cats typically start breeding in late winter, and pregnancy lasts about two months. Shelters are filled with kittens by May and June, but the rush usually slows in the fall. Not this year.
Brenner's colleague Geri Bellman remembers walking into the shelter's exam room to find some cats getting ready to deliver and others nursing their kittens. "It looked like a maternity ward," she says. "If we could get people to spay and neuter, it would alleviate most of our problems." One woman comes into the shelter three or four times a year to hand over kittens.
Brenner, Bellman, and coworker Chris Pinson work closely with more than 20 dog-rescue groups but have only a handful they depend on for help with cats. When it looks as if the shelter might run out of space—meaning cats may have to be euthanized—they frantically make calls and send out e-mails, hoping to find a rescue group that has room. The shelter has its own foster program, which helps with overcrowding, but relies on these groups to find homes for animals that aren't adopted. These days, many rescue organizations are full.
"It's hard when an animal is put down and then you get a call from a rescue group two hours later saying, 'I have a space for number 193,' " she says.
The shelter accepts every animal that comes through its doors, including iguanas and chickens, and tries to keep at least a few cages open at all times. Last year, animal-control officers brought in about two dozen cats that had been living with a hoarder in Silver Spring.
"I hold my breath when they say on the news there's been a seizure in the metro area," says Brenner. "I never know what's coming through the door."
Another challenge: Many rescue groups won't accept black cats, which, like black dogs, are harder to find homes for. "You'd be amazed—you think you're having a good conversation with a rescue group, and when they find out the kitten is black, they don't want it," says Bellman. Some take only cats that use a litter box.
Barbara Lipson, who runs 4Paws Rescue Team in Merrifield, doesn't ask what the cats look like when she's talking to shelter staff. If she can't take them, she says, she doesn't want to be left with an image.
Lipson is more interested in their stories: She rescued a cat whose owners had turned her in because they'd cut her while grooming her and then tried treating her with Super Glue, and they couldn't pay the vet bills. She took another cat that had been living under a porch and was attacked by a dog.
"If a kitten gets adopted and the mother doesn't, they'll call me," says Lipson, whose organization has rescued more than 6,700 cats since 1995. "I hate to see the mom just get tossed aside."
Brenner talks to rescue groups at all hours. She recently found one to take two strays that came in with eye lacerations. "You fight until the very end," she says. "You can make ten calls, and if you get one response, that's one that you've saved."
This article first appeared in the February 2011 issue of The Washingtonian.