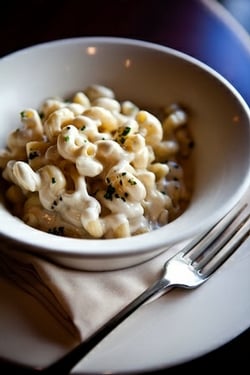 The goat-cheese macaroni at Town Hall is one of those dishes that chef Paul Madrid can't take off the menu without protests. Madrid, an alum of Paolo's, invented the creamy concoction for the grilled-pork-chop entrée when the Glover Park restaurant opened six years ago. The only place the mac and goat cheese has gone since is onto the list of side items for anyone to order.
Madrid still serves the macaroni with Duroc pork and sautéed apples, but he says you can make it a quick main event by adding shredded rotisserie chicken, diced Virginia ham, and/or frozen peas just before tossing the cheese sauce with the pasta. It's also one of those handy dishes that can be made ahead if you're entertaining: Cool the sauce and keep it covered in the fridge overnight, then reheat it over a low flame with two or three tablespoons of water mixed in while you boil the pasta. Madrid uses cavatappi pasta at Town Hall but says that elbows, shells, or any kind of pasta will do.
Town Hall's Goat-Cheese Macaroni
Serves 4 to 6
3 tablespoons butter
3 tablespoons flour
1½ cups half-and-half
¾ cup heavy cream
1½ tablespoons white wine
1¼ cup fresh goat cheese
½ cup garlic-herb Boursin cheese
1½ teaspoons kosher salt (or more to taste)
1⁄8 teaspoon ground white pepper
Dash of Tabasco
½ box (½ pound) cavatappi pasta
In a medium saucepan set over medium heat, melt the butter. Add the flour to make a roux and cook for 1 minute.
Add half-and-half, heavy cream, white wine, salt, and white pepper. Stir to combine and bring to a high simmer, but make sure not to boil the milk. Cook the mixture on low for 10 minutes to thicken. Set aside to cool for 5 minutes.
Put the cream mixture into a blender and add the goat and Boursin cheeses and Tabasco. Blend for 10 seconds on low speed until smooth.
Strain the cheese sauce through a mesh strainer back into the saucepan and set aside to cool until the pasta is cooked, or store it covered overnight in the fridge.
Bring a pot of salted water to a boil. Add the cavatappi, and cook until al dente, about 8 or 9 minutes (the pasta will continue to cook in the sauce). Strain the pasta and add it to the cheese sauce. Turn the heat to medium-low and warm the macaroni and cheese until heated through, about 2 minutes. Season with more salt if necessary.
Subscribe to Washingtonian
Follow Washingtonian on Twitter
Follow the Best Bites Bloggers on Twitter at twitter.com/bestbitesblog
More>> Best Bites Blog | Food & Dining | Restaurant Finder