On last night's Top Chef: All Stars, there was a kitchen fire that derailed the Elimination Challenge and required real live firemen to put it out. And somehow, the episode was still one of the most boring of the season.
The five remaining chefs arrived in the Bahamas for the finals. For the Quickfire Challenge, they cooked against the chefs who won each of their seasons. Carla was clearly off her game early on. She undercooked the rice with her lamb dish and lost to returning chef Hosea.
The contestants were told they'd be cooking for Bahamian royalty for the Elimination Challenge. They got to work planning upscale fare to fit the occasion. Richard quipped that he had been preparing so hard for the finals he was willing to hunt down a goat if he had to. We wished he would, just to liven things up a little. Turned out the chefs would be cooking for the King of Junkanoo—a festival sort of like Mardi Gras—and not for actual royalty. Oh yeah, and they wouldn't be working in a palace, but a small, divey restaurant with apparently faulty kitchen equipment. Basically, then, the challenge was to cook a meal in a regular restaurant for regular diners. Yawn.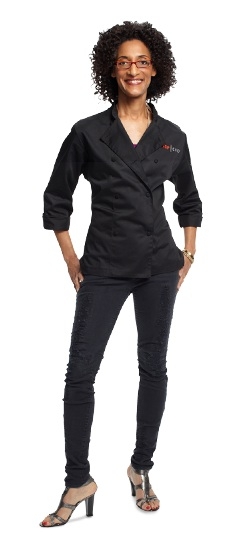 As the chefs were finishing their dishes, the grease in one of the deep fryers caught fire, and the chemicals used to put it out ruined everyone's food. That meant everyone had to start again from scratch. The judges were largely underwhelmed by the results, but Carla's unevenly cooked pork tenderloin and overly greasy apple chips were deemed the worst of the evening.
We said a "hootie hoo" in her honor as she was sent packing. Here, the Washington local talks about what's next for her in the District, what went wrong during last night's challenge, and that yummy falafel shop in Adams Morgan.
How was your perspective different this time around compared to on your original season?
I think I knew what to expect a little more, even though it was much harder. I knew how the game was played. You're not necessarily freaked out by the cameras. You know the judges. Although I have to say the judges continue not to be people to me, they're judges.
What were your favorite and least favorite challenges of the season?
My favorite was the fishing challenge. Doing the Jimmy Fallon challenge, that was pretty fun too. That was crazy. My least favorite is between the dim sum challenge where I made Thai food, and the Southern challenge.
You've said that during your original season, you didn't stay true to your own food in the end and that got you into trouble. Then on last night's Elimination Challenge, we again heard you say you were using a technique for the first time. Why go that route again?
I think that frying the pork loin is not really a technique I'd never used before. You fry chicken. You fry cheese. The frying part was the least of my worries. It was an ill-conceived dish. It wasn't balanced. It needed more acid.
How much did the fire throw you off?
First of all, the funny thing is Antonia is standing there talking about the fire and how it's dangerous and she's not moving away because her plantains are in the fryer. We are just so focused on our food. The crazy thing is we're so used to having things thrown at us, we don't even react. I think the crushing part was when Tom said you have to start all over. It's like running a marathon and they're like 'I'm sorry, that first half didn't count. Can you start over?'
How do you feel about again making it to the finals, and then getting sent home?
Honestly, I would've preferred to have left at Ellis Island. I knew my dish was good. It was about the judges preferring another dish. I never wanted to make it really easy [to send me home]. The Quickfire was a mess. The Elimination Challenge was a mess. I won't defend either of those dishes.
What's next for you in DC? Are you still planning on opening a restaurant in the West End?
I'm hoping to be able to open up a place in the old Stevens School [at 21st and K streets, Northwest]. I was working with one developer and I was part of their team. Now there's a new developer, and we'll see if I become part of their team. I think it's a really good idea. It's to have a cafe, and then to have flex space where people can take classes.
In the meantime, what's going on with your catering company, Alchemy?
I'm so glad you asked. I'm a recovering caterer. It's been 54 days since my last job. I'm now working on a line of sweet and savory petite cookies. What I've done is to dissect the business I want with the cafe, so right now I'm working on the products. The cookies are one of those products. We are also doing cooking classes where we do food-and_wine pairing in Silver Spring. We do them like twice a month. We have a good time.
What are your favorite places to eat in Washington?
You know, it changes. I had those falafels down at the falafel place on 18th Street. Oh my goodness. So yummy. I've been thinking about them ever since. The reason that I am so excited about the falafel place (Amsterdam Falafelshop) is that I love small places where we can just go and grab something to eat and it doesn't cost you an arm and a leg.
Subscribe to Washingtonian
Follow Washingtonian on Twitter
Follow the Best Bites Bloggers on Twitter at twitter.com/bestbitesblog
More>> Best Bites Blog | Food & Dining | Restaurant Finder