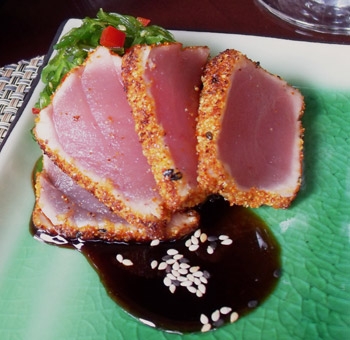 Againn
The British gastropub Againn in DC's Penn Quarter features an inventive Cherrio cocktail ($9) with vodka, Cherry Heering liqueur, fresh lemon juice, rosewater, and egg whites. Beer lovers can grab a Sam Adams Cherry Wheat for $6. On the restaurant's dessert menu is a cherry trifle for $8. The special runs March 26 through April 10.
Art and Soul at the Liaison Capitol Hill
Chef/owner Art Smith serves up a host of cherry-inspired concoctions at this Capitol Hill establishment for $55 per person from March 26 through April 10. The menu includes steamed Southern-style pork buns with sour cherry-hoisin sauce, grilled tuna with a ginger-chili glaze, and a yuzu-ginger trifle with sour cherries and candied kumquats. Indulge in a Cherry Pick cocktail made with vodka, sake, and cherry reduction ($11) to top off the meal.
Asia 9
A complimentary cherry bellini (sparkling wine with cherry purée and cherry liqueur) or iced cherry-apple cider sweetens the deal on this three-course set menu ($39 per person), starting April 1. Guests have a choice between two options for each course, such as crispy shrimp or chicken-pâté spring rolls with sweet-cherry marmalade; grilled pork chops with cherry chutney and Asian slaw; and cherry sorbet with chocolate-covered cherries and whipped cream. (Click here for a full menu.)
Bangkok Joe's
This Georgetown-waterfront restaurant's cherry-blossom menu is available prix fixe or à la carte from March 26 through April 10. First course is Peking-duck dumpling with cherry-hoisin sauce ($9) followed by a seven-spiced roasted shrimp with caramelized tomatoes and cherry-ponzu butter sauce ($15/$23). And for sweets: cherry upside-down cake ($7) and a frozen cherry bellini ($8.50). If you're opting for the entire meal, lunch is $33.11 and dinner is $43.11. You can forgo the cocktail for a discounted meal price.

Buddha Bar
This Asian/French fusion restaurant, which prides itself on its whimsical, spa-like dining experience, is adding a ginger-infused cherry tart to its menu for $9.

Cafe Promenade
The four-course "cherry picks" menu at this French brasserie in the Mayflower Renaissance Hotel includes an amuse-bouche with honey, ricotta, and cherry; arugula-and-frissée salad with cherries, toasted almonds, and Champagne vinaigrette; and a choice of grilled filet mignon with cherry-herb crust and beet gnocchi or seared organic salmon with cherry-pistachio basmati rice, rainbow Swiss chard, and citrus butter. Dessert is cherry-walnut roulade with cherry-vanilla gelato ($44 per person).

Carmine's
The family-style Italian chain in Penn Quarter is serving up a Sicilian triple-cherry cassata ($12.50) and a frozen cherries-jubilee cocktail ($10) made in part with maraschino liqueur, port, and brandied cherries. The special runs from March 26 through April 10, and the cocktail is specially priced during happy hour.
Cuba Libre
This Latin chain in DC's Penn Quarter may be new to Washington, but it's quick to jump on local tradition. Cuba Libre is paying homage to the cherry blossom with barbecue tamarind duck breast with smoked-plantain crème and cherry chimichurri for $25. On the drink menu are two cocktails ($9 each): The cherry-tini with Pyrat XO Rum features Bing cherries, and the coconut-cherry frozen cocktail is made with cherry vodka and a splash of maraschino-cherry juice. The special runs March 26 through April 10.
Dino
This Cleveland Park haunt is known for its sustainable Italian food, extensive wine list, and craft cocktails. This year, Dino serves up a $10 tart cherry-gin cocktail featuring two cherry liqueurs, gin, lemon juice, simple syrup, and club soda from March 26 through April 10.
Entertainment Cruises Cherry Blossom Events
Step aboard the Odyssey, Spirit of Washington, and Capital Elite for a different view of the cherry blossoms. Entertainment Cruises opens its fleet for a host of dining events and sightseeing cruises from March 26 through April 10, including a special Cherry Blossom Festival fireworks cruise on April 2.
The Grand Sushi Event
National Geographic Live! is hosting author Casson Trenor in conjunction with the Cherry Blossom Festival for a night of sustainable sushi with wine and sake pairings. Cosponsored by Genji Sushi, the night includes an introduction by National Geographic fellow Barton Seaver—formerly of the Georgetown restaurant Hook—and a signing of Trenor's book, Sustainable Sushi: A Guide to Saving the Oceans One Bite at a Time. The Grand Sushi Event is March 30, at 7. Tickets are $100.

J&G Steakhouse
This contemporary steakhouse in the W Hotel has an entire private room dedicated to the cherry blossom. The restaurant is offering diners a cherry-pistachio coupe glacé with sabayon from March 26 through April 10.
Kaz Sushi Bistro
This downtown DC sushi joint is celebrating the festival with chef/owner Kaz Okochi's cherry-blossom chirashi, a plate of chopped raw fish. The special runs March 26 through April 10.
Kellari Taverna
Greek seafood restaurant Kellari celebrates this year's festival with a host of menu items including a cherry-blossom salad with jumbo shrimp and cherry-balsamic dressing ($16.95), pan-roasted fish with cherry demi-glace ($34), and Greek yogurt with sour-cherry preserves ($7.95). On the drink menu is a cherry cocktail for $7. Specials run March 26 through April 10.

Kushi
This pulsing izakaya and sushi restaurant celebrates a bit of its home-country culture with a spring-themed cherry-blossom cocktail ($10), a hanami bento box ($15; takeout only), and a deluxe hanami bento box ($40). Specials run March 26 through April 10.

The Majestic
This retro-hip restaurant in Old Town has a menu filled with reinvented classics. To celebrate the blossoms, there's a cherry-crumble tart with vanilla gelato for $8.50 from March 26 through April 10.

Marvin
This U Street bar/restaurant mixes Belgian and Southern cuisines. The cherry-blossom menu includes a crispy veal-sweetbread torchon served with foie gras and cherry gastrique ($12). Also on the menu is Sakura Punch for $9. Specials run fro
m March 26 through April 10.
Mie N Yu
This Asian-fusion restaurant/nightclub is offering dinner and cocktail specials for the festival. There's a sweet-and-sour beef tartare ($14) and a cherry blossom cocktail ($13) made with vodka, rose-petal syrup, Lillet, and branded cherry. Specials run March 26 through April 10.
Neyla
Chef Abdul Hash Housh is serving a host of cherry-inspired items at this Mediterranean grill in Georgetown. On the menu is duck manta with dried cherries ($13), baby-arugula salad with arak-soaked cherries ($7), pan-roasted grouper with kiln-dried cherries ($22), and dark-chocolate-and-cherry crème brûlée ($7). There's also a chocolate-covered-cherry martini for $10. Specials run March 26 through April 10.
Old Glory Bar-B-Que
Cherries abound on the menu of this Georgetown restaurant with a down-home, country feel. Indulge in Sam Adams Cherry Wheat beer-battered onion rings with sweet-and-sour dried-cherry-and-cherry-pepper dip ($8), Old Glory Red Stag bourbon Buffalo wings ($9), and cherry-Cola-and-barbecue-glazed salmon with cheddar-cheese grits ($16). For dessert try the Black Forest cheesecake with cherry-brandy-and-chocolate sauce ($6). There's also a Red Stag mint julep for $10. Specials run March 26 through April 10.
Oya Restaurant
At Oya in DC's Penn Quarter, the cherry is celebrated through a flight of all-American rosés. Included in the $10 special are YinYang Pinot Grigio Rosé from Oregon, Brooklyn Oenology Cabernet Franc Rosé from New York, and Arizona Stronghold Malbec/Zinfandel Rosé from Arizona. The special runs March 26 through April 10.
Paolo's
Paolo's in Georgetown has a plethora of options for the cherry-crazed crowd. On the menu is a balsamic-roasted pear with duck prosciutto, Taleggio, and cherry-thyme biscotti; warm cherry-and-dried-tomato-focaccia panzanella salad with speck; and a rosemary lamb loin with cherry-and-Italian-sausage stuffing, pommes maxime, and bordelaise syrup with sous-vide cherries For dessert try the vanilla-bean cake with Morello-cherry ice cream or the cherry-blossom float.
Park Hyatt Washington
In the bar and lounge at this hotel in DC's West End, you'll find a Sakura cocktail, made with certified-organic grain vodka, house-made cherry-blossom syrup, fresh cherry purée, and Virginia sparkling wine ($12). The special runs March 26 through April 10.
Potenza
Potenza is serving prosciutto di Parma with cherry mustard ($10), citrus crepes with black-cherry compote ($9), duck breast with black-trumpet mushrooms and cherry jus ($24), and a dessert of cherry-frangipane tart with cherry-balsamic reduction ($8). The specials, which run March 26 through April 10, are also available as a four-course meal for $45.
Quill
This bar in the Jefferson hotel is featuring a hibiscus-flower-and-cherry martini for $19 during the festival. The drink comes with touches such as a lemongrass-sugar rim and a side of vanilla cotton candy. The special runs March 26 through April 10.

Redwood
Bethesda's Redwood restaurant starts the celebration before the buds begin to bloom and keeps it going long after the blossoms have reached their peak. From March 15 through April 15, the sustainably minded eatery is adding a "cherry pop" cocktail to its menu with elderflower liqueur, cherry simple syrup, and sparkling wine for $10.

Roof Terrace Restaurant
During the festival, finish your meal at the Roof Terrace Restaurant with a themed dessert: chocolate Sacher biscuit with chocolate crème brûlée, cherry syrup, and chantilly cream ($12).

TenPenh
This Southeast Asian-inspired eatery within walking distance of the Mall is offering a four-course cherry-blossom tasting menu from March 26 through April 10 ($40 per person; $60 with beverage pairings). Start out with seared tuna tataki with seaweed salad and ponzu sauce, move onto duck confit with wild-cherry gyoza and toasted-pinenut salad, and then pan-seared grouper with scallion-crab rice-noodle crepe and black-bean sauce. The sweet finish is dried-cherry-and-rhubarb crisp with sesame ice cream.

Zentan
At trendy Zentan, located in the Thomas Circle hotel Donovan House, cherry blossoms abound both in wall art and plated food. On the menu is a combination of cherry-blossom-and-lychee milk with broken cherry cookies. A cocktail with lychee, Nigori sake, and vodka ($12) is served alongside brandied cherries, lychee bits, and almond-cherry cookies. The special runs March 26 through April 10.
Zola
This Penn Quarter wine bar and Italian restaurant has incorporated the cherry into a host of dishes ranging from poultry to fish to red meat. Choose from cherry-cured-ham rillettes with cherry gelée and brioche ($11); cherry-braised beef short ribs with sunchoke purée, pea tendrils, and foie-gras emulsion ($28); anise-glazed sea scallops with country ham, ramps, and cherry suds ($15), or roast quail with cherry aigre-doux, goat-cheese polenta, and seedling salad ($16). On the dessert menu is cherries with brûléed vanilla sponge cake and tonka-bean cream for $11. Specials run March 26 through April 10.