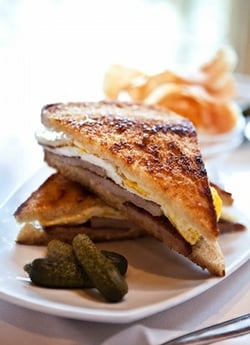 St. Patrick's Day in Ireland is more about food and family than about green beer. Whatever your celebration style, this sandwich from Irish chef Cathal Armstrong (Restaurant Eve, Majestic, Eamonn's)—a variation of his bar-menu BLT—works for an at-home gathering or to soak up the Guinness after a pub crawl. Armstrong notes that, stuffed with rashers—a less fatty cousin of American bacon—as well as eggs and cheese, the simple concoction is best when you cure the pork at home and mix your own mayonnaise. For those short on time, Whole Foods carries packaged rashers and Duhallow cheese.
Whisking your own mayonnaise may seem daunting, but once you've tasted the lush, creamy result, you'll never use Hellman's again. Armstrong says to measure the canola oil in a pouring cup so you can add it to the egg mixture in a thin, steady stream, which makes it emulsify perfectly. Whether using a whisk or a food processor, it also helps to add a few drops of canola first, then more when the mayo begins to thicken. If the mayonnaise does happen to break up because too much oil is added too quickly, it's not a wash: Add a teaspoon of lukewarm water to a clean bowl and start the process again by dribbling in the broken sauce while whisking constantly and slowly adding oil.
Restaurant Eve's Rasher-Egg-and-Cheese Sandwich
Makes one sandwich
Make the rashers:

1 cup hot water
1 cup salt
2 cups ice
1 tablespoon peppercorns
1 teaspoon cloves
5-pound pork loin
Place the hot water in a large bowl, and add the salt. Stir to dissolve, then add the ice. Make sure the water is cold (if not, place it in the fridge until cool to the touch). Pour the liquid into a plastic or other nonreactive container, and add the peppercorns, cloves, and pork. Let the loin brine in the fridge, covered, for 5 days.
Remove the pork loin from the brine. Slice ¼-inch-thick slices for the rashers. The pork lasts up to one week in the fridge, or it can be wrapped tightly in plastic and frozen.
Make the mayonnaise:
1 large egg yolk
½ teaspoon salt
1 teaspoon lukewarm water
1 to 2 teaspoons lemon juice (to taste)
1 cup canola oil
In a food processor (or a bowl, if you'd like to mix it by hand), combine the egg yolk, salt, water, and lemon juice. If using a bowl, fold a hand towel into a ring shape on the counter and set the bowl in it to hold it steady while you whisk. Whisk or process the ingredients together.
Add a few drops of oil, and whisk or process until the mixture starts to emulsify, then add the oil slowly while whisking vigorously or running the blender. Mix until the mayo has a creamy texture. Store it in a covered container in the fridge for up to a week.
Assemble the sandwich:
2 teaspoons vegetable oil
2 back rashers
2 tablespoons Kerrygold butter
2 slices Pullman loaf, or other medium-thick white bread
Mayonnaise to taste
1 egg
3 slices of Duhallow cheese or sharp white cheddar
Pat the rashers dry. Heat a medium sauté pan over medium-high heat with two teaspoons of canola oil. When it's hot, add the rashers and sauté until crispy, about a minute. Set aside.
Spread butter on one side of each slice of bread. Place the slices, buttered side down, in a pan over medium heat and toast until slightly brown and crispy, about 3 minutes.
While the bread is toasting, melt 2 tablespoons butter in a small frying pan over medium-high heat. Add the egg, and when the white begins to coagulate, use a fork to swirl the yolk so that it breaks over the white. Flip the egg over, then quickly take it out of the pan.
Spread mayonnaise to your taste on the toasted bread, and top with slices of cheese, the rashers, the fried egg, and the other slice of Pullman loaf.
Subscribe to Washingtonian
Follow Washingtonian on Twitter
Follow the Best Bites Bloggers on Twitter at twitter.com/bestbitesblog
More>> Best Bites Blog | Food & Dining | Restaurant Finder