With its wharf, cobblestone streets, 18th-century houses, and throwback lampposts evoking gaslights, Fells Point is Baltimore at its most historically charming. It's hard to believe that 1960s transportation planners wanted to flatten much of Fells with a harbor-spanning highway project. Among those who led the fight to head off the highway was a pint-size social worker with a thick Baltimore accent. We know her today as history's longest-serving woman US senator, Barbara Mikulski.
Named for William Fell, the Englishman who acquired the land in 1726, the Point was its own town in the early going, separated from Baltimore by a swamp. It became an important port and shipbuilding center where Baltimore's clipper ships were born. Statesman abolitionist Frederick Douglass worked the waterfront here before escaping from bondage in 1838.
Catering largely to sailors, Fells was a rough-and-tumble place—a port of call where seamen went to drink, fight, and visit brothels. The Point now is cleaned up and gentrified. The waterside has bloomed with new condo and office projects, while neo-Federal rowhouses line some of the streets. A remnant of its sailor-serving days is the many bars and taverns.
Jump to: Museums Dining Nightlife Shopping Where to Stay
Museums and Culture
The Fells Point Visitors Center (1724 Thames St.; 410-675-6750) is a good first stop. At this mini-museum and gift shop, you can load up on maps and brochures and arrange for a tour of the restored circa-1765 Robert Long House, Baltimore's oldest home. A series of guided walking tours start here, covering topics such as the lives of sea captains and Fells Point's history as a port that saw nearly as many immigrants as Ellis Island. Reservations required.
For walking tours of a more spine-tingling nature, consider a Baltimore Ghost Tour (410-357-1186). Costumed guides lead you through the back streets of Fells Point recounting haunted happenings. Every Saturday, there's also a Fells Point Haunted Pub Walk, in which you can indulge in spirits of both kinds. This same outfit also runs ghost tours in the Mount Vernon neighborhood from September to November. Tours ($13 to $20) are Friday and Saturday evenings.
Jump to: Museums Dining Nightlife Shopping Where to Stay
Dining
Greek-style seafood is the main attraction at the Black Olive (814 S. Bond St.; 410-276-7141), in a historic rowhouse. Graze on an array of dips—a lovely version of the fish-roe spread taramasalata, parsley-flecked hummus, silky eggplant—then move on to grilled calamari stuffed with herbed cheese and beautifully grilled scallops.
If you want crabcakes, head for Meli (1636 Thames St.; 410-534-6354), which serves a very good version. The bistro also puts out a lovely baked-goat-cheese salad and a smoked-salmon plate with citrus cream and brioche.
With its exposed brick, green lights, and local artwork, Salt Tavern (2127 E. Pratt St.; 410-276-5480), in nearby Butchers Hill, leans toward the funky side. The trend-conscious cooking means fries are sizzled in duck fat and sliders are laced with foie gras.
Jump to: Museums Dining Nightlife Shopping Where to Stay
Nightlife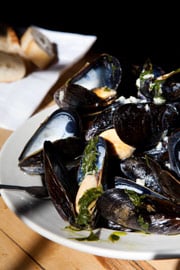 With so many bars in Fells Point, it would be easier to list the addresses where you can't order a drink. But amid the places either new and polished or catering to a hard-charging college crowd, there remains a handful of bars with an unvarnished charm.
Bertha's (734 S. Broadway; 410-327-5795) has been around since 1974, and its green-and-white "Eat Bertha's Mussels" bumper stickers are seen all over the world. The bivalves are steamed by the brimming bowlful, while the restaurant's narrow bar remains a popular place for a pint of cask-conditioned ale, including its own Bertha's Best Bitter. The bar hosts live blues and jazz some nights.
For music any and every night—blues, rockabilly, jazz, zydeco, traditional Irish, you name it — the Cat's Eye Pub (1730 Thames St.; 410-276-9866) is the place to be. The cover charge is only on some weekend nights or for better-known acts. Besides tunes, the Cat offers a large selection of beers on tap and a friendly vibe in which locals mix with tourists amid a nautically themed pair of barrooms overlooking the waterfront.
A block off the main thoroughfare of Thames Street (pronounced here as it's spelled, not in the London fashion) sits the 1700s house that's home to the Wharf Rat bar (801 S. Ann St.; 410-276-8304). With its creaky interior, you expect to see some peg-legged old salt saunter in the door with tales of whaling the storm-tossed Atlantic. The bar features English-style beers; on Thirsty Thursdays, you can get three mugs of three selected beers for $5.
Jump to: Museums Dining Nightlife Shopping Where to Stay
Shopping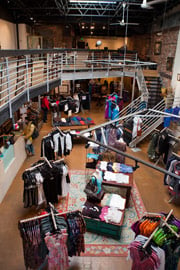 The orange signpost outside Party Dress (723 S. Broadway; 410-675-5105) beckons in breezy black script: life's a party, dress for it! A trip inside the two-story space is rewarded with ruched, ruffled, and embellished dresses from contemporary brands such as Ya Los Angeles, C. Luce, and Elan International. Handbags and wallets by Shira­leah, intricately beaded belts, and an array of bold costume jewelry reflect owner Susan Singer's eye for creating the look of a high-end boutique at highly accessible prices. (Most items retail for less than $100.) Don't leave without a Baltimore-themed T-shirt from Great to Be Here.
Garth Young's minimalist shop, PEDX Baltimore (1715 Aliceanna St.; 410-276-0038), creates the backdrop for a collection of casual menswear from such names as Mishka NYC, Rocksmith, the DC-based Durkl, and Mutant, the store's house brand. The swiftly evolving inventory includes one-of-a-kind tops, outerwear, and fitted caps. Young seeks out emerging design talent and stays on the pulse of his clientele by hosting monthly gallery openings and parties. This spring, expect offerings from Dia­mond Supply Co., HUF, and 10.Deep.
Jump to: Museums Dining Nightlife Shopping Where to Stay
Where to Stay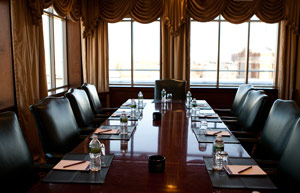 For a full immersion in historic Fells Point, book a room at the Admiral Fell Inn (888 S. Broadway; 866-583-4162), an 80-room hotel spanning seven buildings that date to the 1770s. Each room has its own decor, size, and shape. Complimentary wine, beer, soft drinks, coffee, tea, and treats await guests on three afternoons a week. On weekends, you can gather for free ghost tours of the property. In the morning, sidle up at the marble coffee bar at Meli Patisserie & Bistro downstairs, where the lattes are strong and the people-watching addictive. Rooms start at $169.
Fells Point is all about the waterfront, and Celie's Waterfront Inn (1714 Thames St.; 800-432-0184) is ideally positioned. No matter which room you choose, you can take in harbor views from the rooftop deck. This sunny nine-room bed-and-breakfast offers free wi-fi throughout the property and loaner laptops. Families will love suite number 8, which has two bedrooms, a living room, and a kitchen with harbor views. Rates begin at $139.
Jump to: Museums Dining Nightlife Shopping Where to Stay