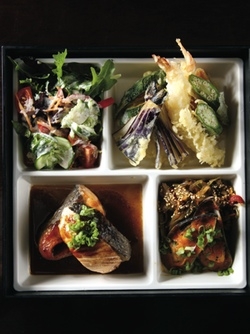 On March 11, Japan was hit with a 9.0-magnitude earthquake, and at last count, there are 25,000 people dead and missing. And according to Business Week, 1,913 evacuation centers are housing a quarter of a million residents. Lots of Washington restaurants are contributing to relief efforts with specials, sales donations, and auctions. Here's how you can help.
• Kaz Sushi Bistro owner Kaz Okochi, born and raised in Nagoya, Japan, has organized an eBay auction with more than 20 restaurants and hotels. Packages up for grabs include brunch for two at the Tabard Inn, dinner for two at Masa 14, a four-person wine dinner at Café Atlántico, and a five-course tasting menu for four guests at Ris. For a full list of packages, click here.
• At Kushi in DC's Mount Vernon Square, the pork-belly skewers are one of the restaurant's most popular items. Owners Darren and Ari Norris—she was in Japan until the day before the earthquake—are donating 100 percent of sales from the pork skewers to the Red Cross. The restaurant is hosting a fundraiser Sunday, April 3, from 7 PM to 1 AM, with DJs, a silent auction, and a special menu. For tickets ($20 for general admission, $100 for VIP), call 202-682-3123.
• The Eat Well DC restaurant group—the Heights, Logan Tavern, Commissary, and Grillfish—will donate $1 to the American Red Cross for every Facebook fan it adds through the end of April. Starting April 1, all Eat Well DC restaurants will give $2 for every bottle of wine sold; the donations end April 30.
• Sei restaurant is offering a Kibou, or Hope, sushi roll, and 100 percent of its sales go to the Red Cross.
• The Quill bar in the Jefferson Hotel, has created the Hanami Hibiscus Cherry martini, and half the proceeds from the $19 cocktail go to the Red Cross. The drink is made with lemongrass-and-cinnamon-infused vodka and Prosecco, and it comes with cotton candy.
>> Want to know other ways to help? See our list of Cherry Blossom events to help Japan.
Subscribe to Washingtonian
Follow Washingtonian on Twitter
Follow the Best Bites Bloggers on Twitter at twitter.com/bestbitesblog
More>> Best Bites Blog | Food & Dining | Restaurant Finder