Get There: Amtrak Virginia has increased the number of trains running between Washington's Union Station and Richmond's Staples Mill Station (7519 Staples Mill Road) to nine in each direction, seven days a week. Tickets ($31-$53 each way) are available from Amtrak Virginia's Web site; the trip takes about two hours. While Staples Mill is five miles from the city's center, frequent delays on the line between Staples Mill Station and the Main Street Station often mean it's faster to hop off at Staples Mill and get a cab downtown. If taxis are in short supply, you can call Veterans Cab Association (804-275-5542) to arrange a ride.
Once You're There: Start your day at the Virginia Museum of Fine Arts (200 North Boulevard), which is open 365 days a year and charges admission only for special exhibitions. When it reopened last year after adding a major new wing by architect Rick Mather, the museum became a perfect bridge between the city's Civil War past and its future. The clean, modern addition to the classical building is across a lawn from a former home for Confederate widows that's now part of the museum's administrative offices and next door to the United Daughters of the Confederacy.
While you could come just for the architecture, the art's well worth the trip from Washington. The current big draw is "Picasso: Masterpieces from the Musee National Picasso, Paris," a strikingly personal exhibition of works and photographs the artist kept for himself (tickets are $20 for adults; $16 for seniors, students, and children; through May 15). But don't skip another major exhibit highlighting images of Yoruba royalty, "Dynasty and Divinity: Ife Art in Ancient Nigeria" (tickets are $8 for adults; $6 for seniors, students, and children; through May 22). There may not be a direct line from Nigeria to Picasso's French studios, but the explorations of abstract art and the intensely expressive portraits make for a fascinating juxtaposition.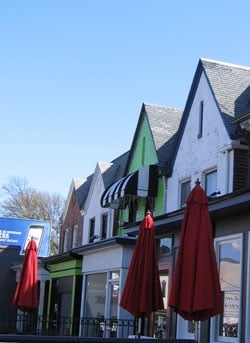 Once you've had your fill of the galleries, meander down North Boulevard to Carytown, the Richmond neighborhood that feels like a transplanted slice of Los Angeles—complete with a Scientology Center at the end of the main drag. Carytown is a sharp-eyed shopper's paradise, whether you're browsing used graphic novels, biographies, and art criticism at Chop Suey Books (2913 West Cary Street); snagging a funky necklace made out of recycled bullets or high-quality consignment clothes at Clementine (3118 West Cary Street); bagging bargain records at Plan9 Music (3012 West Cary Street, though the store plans a move in coming months); or digging deep in your wallet for a pair of gorgeous Oxford heels at Phoenix (3039 West Cary Street). Even if you're not much for retail, Carytown's cheerful storefronts and wine and coffee shops make for a sophisticated small-town promenade.
Eat and Drink: Richmond is full of restaurants that source their food locally, and Amuse, the sit-down restaurant at VMFA, is no exception. The eatery even has four Virginia wines bottled for its tables and during a recent lunch a waiter tried to remember which of several local mushroom suppliers had provided the morels in an excellent crab-and-corn chowder.
Mezzanine (3433 West Cary Street), one of Richmond's most-lauded restaurants, doesn't open until 5 on weekdays, which means it can be a tight fit if you're trying to get back to Staples Mill to catch a train at the end of the day, but as spring establishes itself, its patio is a nice place to grab a drink and a bite.
And if you want a mid-afternoon break from pounding the pavement, Secco's (2933 West Cary Street) bartenders will help you navigate their wine list and assemble a cheese-and-charcuterie plate to match, then linger to chat or leave you to enjoy a book. It's profoundly civilized, and if you like what you're quaffing, you can pick up a bottle next door at River City Cellars (2931 West Cary Street) to take with you on the train.
Subscribe to Washingtonian
Follow Washingtonian on Twitter
More>> Best Bites Blog | Food & Dining | Restaurant Finder