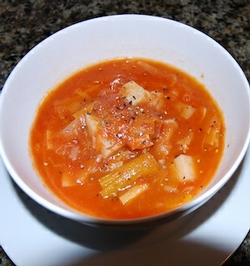 If ever there was an institution as profoundly unappreciated as English food, it's the English mummy (that's British for "mom," by the way). Blessed with a wardrobe of colorful separates, a razor-sharp tongue, and an endless ability both to bolster and to bash her offspring, the mummy should rightly be a global cultural icon, up there with the Queen and Cadbury's chocolate. I spend half an hour on the phone each weekend with mine, and she tells me stories about her friend Alison (who's apparently "thin-lipped and mean") and debates the nuances of American foreign policy (she likes Barack Obama, although she got very cross with him for criticizing BP, and she thinks Sarah Palin is "just ghastly").
My mummy is coming to stay next month, meaning I'm already making preparations: purchasing Earl Grey tea and marmalade, cleaning, and preparing an invisible, Teflon-esque coat of armor, which I'll use to repel any maternal criticism. (On a recent visit she complimented me on my weight gain and told me I was getting bunions.) I'm joking, mostly. My mummy is lovely, and her visits are usually complicated by only one thing: she's lactose-intolerant. This is a giant problem in our house, where a quarter of our grocery budget is routinely spent on cheese, and my loyalty to dairy is matched only by my loyalty to my husband, who's much nicer and more patient with my family than I am.
Luckily, there's one thing my mom usually isn't critical of, and that's food. She's a great cook, but no matter how much I beg her, she likes to take a break from the kitchen while she's on vacation, meaning I'm obliged to think of things to cook that don't contain milk, cream, cheese, or capers (no allergies to the last one—she just doesn't like them). A soup with tomatoes, leeks, bacon, and potatoes is one of her favorite dishes—which is appropriate because the recipe came from her in the first place. Leeks, the Internet tells me, are allium vegetables, so they're good sources of folate and antioxidants; tomatoes are full of lycopene; and bacon is just generally delicious. Even better, this recipe is unbelievably simple and hard to screw up, meaning one can generally let one's Teflon guard down for at least an hour or two.
Chunky Tomato, Leek, Bacon, and Potato Soup
Serves 6
One 12-ounce packet of nitrate-free bacon
4 leeks, pale-green and white parts only, sliced in half and chopped into 1-inch pieces
One 28-ounce can crushed tomatoes
2 large potatoes, peeled and chopped into ½-inch dice
¾ cup chicken or vegetable broth
Salt and pepper to taste
In a large skillet set over medium heat, cook the bacon in batches until it's just getting crispy, about 3 minutes. Place on a plate lined with paper towels to drain, leaving the rendered fat in the pan. When the bacon slices are cool, slice them into ½-inch pieces with scissors or a kitchen knife. Set aside.
Transfer about a tablespoon of bacon fat to a large saucepan or Dutch oven set over medium-low heat, and add the leeks. Cook until they're soft, about 5 minutes. Add the tomatoes and potatoes, then fill the empty tomato can with water and add that. Add the broth, season with salt and pepper, and bring to a boil. Turn the heat to low, cover the pot, and gently simmer for 30 minutes until the potatoes are tender. Add the bacon bits and simmer another 5 minutes before serving.
Related:
Sophie at the Stove: Macaroni and Cheese
Sophie at the Stove: An Introduction
Subscribe to Washingtonian
Follow Washingtonian on Twitter
Follow the Best Bites Bloggers on Twitter at twitter.com/bestbitesblog
More>> Best Bites Blog | Food & Dining | Restaurant Finder