Are your kids tired of the same old marshmallow Peeps and plastic eggs in their Easter baskets every year? These local shops and restaurants are offering treats with a twist that are sure to keep everyone happy and hopped up on sweets.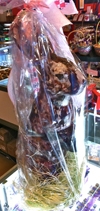 ACKC
1529-C 14th St., NW;202-387-2626
You can't miss the oversize chocolate bunny at ACKC. The 12-inch rabbit is made in-store with Belgian milk-chocolate couverture, which glosses the chocolate and gives it a rich flavor. Too much chocolate for you? At six pounds, you can use it as dumbbell as you eat your way to chocolate bliss.
Kids will love it because it looks exactly like a bunny, manager Ibrahim Bangoura says. "It's well wrapped, attractive to the eye, and filled with chocolate. What's not to like?"
A limited supply of bunnies is available at the DC location, but you can also place an order. Hurry, though, as it takes three to four days for ACKC's chocolatier to make the $125 treat.
Biagio Fine Chocolate
1904 18th St., NW; 202-328-1506
On Biagio's table devoted to standard Easter fare such as egg-shaped chocolates, there's also a handful of not-so ordinary items. The high-end chocolate boutique offers French-style Easter baskets that include a Cluizel sardine can. Don't be alarmed; they may look exactly like the small, oily fish, but once unwrapped they're just milk-chocolate candies. Baskets are $1.75.
Keeping up with the bacon fad, Biagio also has bacon eggs by Vosges Chocolate. They're 55 percent dark chocolate and filled with soft bacon caramel. It won't take long to devour them, but Vosges Chocolate says to "consume within three months." A pack of five eggs is $21.

Eamonn's
28 King St., Alexandria; 703-299-8384
This fish-and-chips restaurant promises an "Eggtastic Easter" with its newest concoction: the fried Easter egg. It's a Cadbury egg dipped in batter and deep-fried. Available only until Easter Sunday, April 24. Fried Easter eggs are two for $3.
For a "healthier" substitute, try a box of chocolate eggs, ranging from $12 to $15. Crack open one of these and more miniature dark-, white-, and milk-chocolate eggs will spill out.

Artisan Confections
1025 N. Fillmore Street, Arlington; 03-524-0007
Craving some chocolate with a kick? Try Artisan Confections' mint-julep chocolate, filled with bourbon and dark-chocolate ganache. It's just one of the three flavors included in the store's nine-piece Special Easter Box; the strawberry-cream chocolate has a layer of strawberry pâte de fruit and white-chocolate ganache, while the peanut-butter chocolate is a mix of crispy praline and oozing caramel.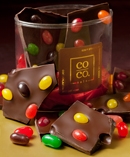 Co Co. Sala
929 F St., NW; 202-347-4265; cocosala.com
This chocolate boutique's $5 jelly-bean bark may have your kids hopping around like the Easter Bunny. The bar comes in either white or dark chocolate, with an assortment of jelly beans baked in.
Co Co. Sala's carrot-cake chocolate truffles come in a four-piece decorated box for $20. Or surprise your kids with the $25 hollow "Floppy" chocolate bunny—a chocolate egg is hidden inside.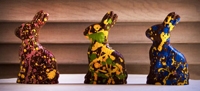 Fleurir Chocolates
This chocolate boutique opens in a week and a half, but you can check out Fleurir's caramel bunnies online or at Biagio Fine Chocolate and the Old Town Farmers' Market (Market Square, 301 King St., Alexandria).
The bunnies are 70 percent dark chocolate and filled with tres leches caramel, splattered with either pink-and-yellow, blue-and-yellow, or green-and-yellow cocoa butter. They're approximately two ounces and come in individual boxes for $8.
Subscribe to Washingtonian
Follow Washingtonian on Twitter
More>> Best Bites Blog | Food & Dining | Restaurant Finder