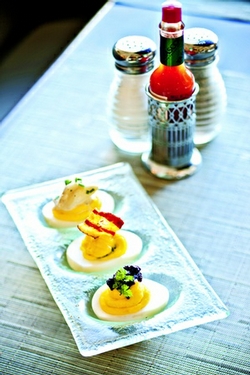 Acadiana. Different toppings—crab ravigote, Choupique caviar, and bacon—make this trio of halves hard to share.
Firefly. The Dijon-mustard-and-paprika-whipped yolks are church-supper classic, but caper powder and fried garlic make this bar snack stand out. (We have the recipe here.)
Food Matters. A heavy dose of smoked paprika fires up the middles of these five bites.
Jackson's Mighty Fine Food. Overstuffed eggs get crunch from chopped pecans and—even better—sugared bacon.
Palena Cafe. The newly expanded cafe is best known for its burger, but Frank Ruta's traditional deviled eggs are terrific, too.
Ray's the Classics and Ray's the Steaks. Leave it to meat master Michael Landrum to load up hollowed egg whites with steak tartare.
2 Amys. These curry-spiced eggs with salsa verde have been on the menu at Peter Pastan's Neapolitan-pizza restaurant since day one. (We have the recipe here.)
This article appears in the April 2011 issue of The Washingtonian.
Follow Washingtonian on Twitter
Follow the Best Bites Bloggers on Twitter
More>> Best Bites Blog | Food & Dining | Restaurant Finder