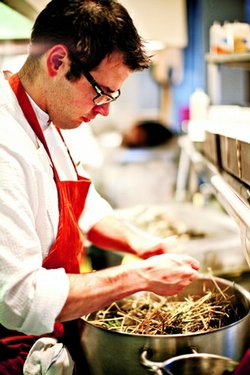 Before leaving for New York City in 2007, chef Fabio Trabocchi wowed diners with his innovative techniques at Maestro in Tysons Corner. And just as Trabocchi returns to DC to open Fiola in Penn Quarter this spring, one of his famous tricks—smoking with hay—has been appearing on area menus.
Trabocchi mostly uses hay to smoke fish. But we've spotted hay-roasted strip loin at Jackie's in Silver Spring; hay-smoked grits at Patowmack Farm in Lovettsville, Virginia; and carrots smoked in hay at Volt in Frederick.
At DC's Bibiana, chef Nicholas Stefanelli uses a combination of alfalfa, timothy, and orchard grasses—all types of hay—from famed pork farmer Bev Eggleston to smoke sweetbreads as well as potatoes for gnocchi.
"It makes things sweeter because it has a very fragrant smoke," Stefanelli says. "It doesn't have that really hard smoke that you get from applewood, pine, or oak."
It's only natural that Stefanelli began playing with hay—he worked with Trabocchi at Maestro and followed him to New York, where they roomed together. Stefanelli notes that all chefs learn from mentors and go on to put their own spin on things.
"That's how cuisine evolves," he says. "If not, we'd all be doing foie gras ballotines with Sauternes jelly."
This article appears in the April 2011 issue of The Washingtonian.
Subscribe to Washingtonian
Follow Washingtonian on Twitter
Follow the Best Bites Bloggers on Twitter
More>> Best Bites Blog | Food & Dining | Restaurant Finder