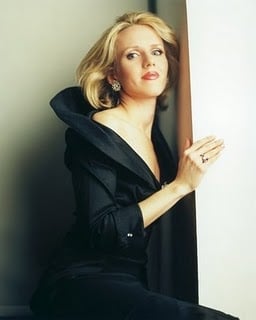 Sarah Coburn says she likes coming to Washington to sing, and not only because of the chance to visit her father, Senator Tom Coburn. The Oklahoma-trained soprano has performed here several times: with the Washington National Opera (in Tamerlano), with the Washington Concert Opera (in Tandredi)and I Puritani), and in recital for Vocal Arts DC. She was back to perform in the Shenson Chamber Music Concert series at the National Museum of Women in the Arts on Wednesday night. Coburn and her accompanist, pianist Anne Breeden, presented a one-hour recital that displayed the singer's training in Italian, German, Russian, French, and Spanish diction.
For whatever reason, Coburn's voice sounded more relaxed in her German and Spanish sets. She chose three of the most familiar Richard Strauss songs, beginning with a startlingly slow rendition of "Morgen," in which the misty, soft-pedaled piano drew out a less nervous vibrato spinning in Coburn's voice. Whenever Breeden pushed the envelope with more sound, as in "Cäcilie," Coburn tended to constrict sonically, a nervous energy that made for some thrilling high notes. Two Rachmaninoff songs made for an exultant conclusion to the first half, the torrential swells of "Spring Waters" helping sweep Coburn up to a ringing top. She seemed most at ease in a pleasing set of pieces by Joaquín Turina and Fernando Obradors. Something about these works made her voice open up, allowing the cantillations on an "ah" vowel to roll out effortlessly, a feeling of ease that Coburn confirmed when she kindly answered a few questions after this recital.
Coburn's life has recently become much more complicated since the birth of her first child, something she confided to the audience when she sang a warm, maternal rendition of Strauss's "Wiegenlied." "I could write a book about life as a mother," she says, "and especially as a traveling mother." This was the first professional trip Coburn has made without her little bundle of joy. She has continued to travel around the world with her daughter to perform, most recently as Amina in Bellini's La Sonnambula in Vienna. "We've survived," Coburn says. "She took her 35th plane trip last week. It's so funny, her little passport has stamps all over it. She is always asking me, 'Mommy go airplane?' "
Opera continues to be Coburn's bread and butter as a singer, and her flexible and clear voice plus a slender, pretty appearance make her an appealing combination in the new opera world of televised close-ups. Her next engagement locally will be with the Washington National Opera next season in the title role of Lucia di Lammermoor, a role she has performed many times, including in the French version of the opera at Glimmerglass. In Wednesday's recital, Coburn had a charmingly coquettish turn in a flirty aria from Massenet's Manon and showed her bel canto chops in a lavishly embellished "Una voce poco fa" from Rossini's The Barber of Seville. In keeping with her performance in Handel's Tamerlano a couple of years ago, the arching legato lines of Cleopatra's "Piangerò la sorte mia" from Giulio Cesare did not sit quite right with Coburn's sometimes fluttery vibrato.
Does Coburn mind journalists asking her about what it's like coming to Washington as the daughter of a US senator, particularly when her father has just pulled out of the so-called Gang of Six? Politics and art do not generally mix: When she was singing in 2008's Tamerlano opposite legendary tenor Plácido Domingo, her father was in the news for his attempts to slash government funding of the arts. "I would never get tired of being asked about my dad," she says emphatically. "I'm very proud of my dad. He has more integrity than anyone I know."
The National Museum of Women in the Arts recently announced its season of three concerts for next season: composer Lori Laitman (March 14, 2012), violinist Caroline Goulding (April 11, 2012), and classical pianist Simone Dinnerstein with popular singer/songwriter Tift Merritt (May 30, 2012). The museum's concerts are free, but a reservation is required.
Subscribe to Washingtonian
Follow Washingtonian on Twitter
More>> After Hours Blog | Arts & Events | Happy Hour Finder | Calendar of Events